Recover Post-Coachella With These Luxe Wellness Programs & Treatments
Lindsay Hattrick/TZR; Getty Images; Stocksy; Shutterstock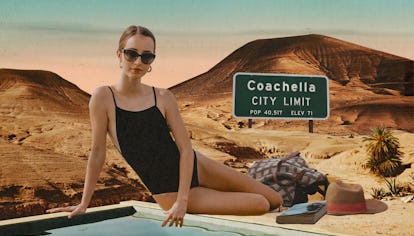 For nearly the last quarter of a century, Coachella Valley Music and Arts Festival has been corralling crowds of as many as 100,000 attendees per day, all of whom come to the desert destination to dance (and perhaps imbibe) the days and nights away to some of the most established and emerging musical acts around. With so much to do in addition to catching the live tunes — from sponsored social events and DJ sets to artistic activities and fitness classes — you're bound to be burned out by the time you pack it up and head home. Thankfully, if you need your battery recharged, Palm Springs and its surrounding regions offer tons of options for luxe wellness programs and treatments to partake in post-Coachella.
Whereas Indio itself is best known as the location of several major music festivals, adjacent areas including the aforementioned Palm Springs, Joshua Tree, La Quinta, and Desert Hot Springs are renowned for their spa offerings, often inspired by the landscape and traditions of its Indigenous population. From soundbaths to reiki sessions — in addition to the usual pampering practices like facials, body wraps, and massages — treatments around these parts center around the concept of healing: healing your mind, your body, and even your spirit. How convenient it is that so many coveted hotels, spas, and resorts are close enough to Coachella to give you some much needed grounding and restoration after longs days of indulgence and excess (abundant heat, sun, sound, and social activity, to name a few sources of overwhelm).
Sounds like your perfect post-partying plan? Read ahead to get the scoop on some of the most luxurious wellness treatments and programs close to Coachella and see if you can squeeze in an extra day or two so you can get back to your regular life feeling truly reinvigorated — that is, if they're not all booked up.
This desert respite is notorious for its health and fitness offerings — from the world famous golf club to the tennis courts. But if you're looking for more soothing activities, the spa here is just as renowned. As for some unique treatments to try here, the VYBES Calm & Balance CBD Massage begins with a flight of three flavors of VYBES CBD-infused beverages, followed by a customizable massage featuring therapeutic grade CBD oil to reduce any pain or inflammation and soothe sore muscles you may have earned from all the impassioned dancing you've been doing. The Restorative CBD + Cryo Massage doubles down on the healing benefits by adding on cryotherapy, which has been shown to promote muscle recovery.
For something a little more comprehensive, try the Find Your Zen Ritual, which is meant to cleanse the mind and body through stress-reducing biodynamic flower essences. First, you'll soak in a blend of botanicals, then a practitioner uses dry brushing to stimulate your lymphatic system (which can help reduce bloat and improve immunity) before hydrating and relaxing your physical body with a custom massage. Lastly, some guided breathwork will help you put the finishing touch on this holistic calming journey.
This dreamy Desert Hot Springs destination was built on the principle of healing — literally. Maximizing the mineral water of a 600-year-old natural spring, this retreat is intended to be a therapeutic one. Even just a simple soak in these waters can boost your mood, detox your body, and repair tissue damage (among other wellness claims), but Two Bunch Palms also offers some more tailored treatments. For example, there's the Adaptogen Wrap, designed to combat fatigue. After receiving a house-made adaptogenic drink, you'll be dry brushed, then detoxified with a full-body mud mask that includes anti-inflammatory and stress-relieving ashwagandha and chaga before enjoying a private soak and aloe application to soothe dry, desert-ravaged skin.
Seeking something a bit more emotionally focused? Partake in a reiki treatment. This energetic bodywork is intended to improve and balance your qi (or "life force," according to traditional Chinese medicine). But be forewarned, this practice is not at all like a traditional massage. In fact, the practitioner's hands will barely graze you. That said, the ideal candidate for this type of energy healing is someone open-minded and willing to go deep.
You can also create your own bespoke experience here with a combo of massages, facials, and wet treatments and save by bundling them. Want the works? Try the detox-focused regimen that includes the Lymphatic Drainage Massage, Abdominal Detox Wrap, and Chakra Balancing Desert Abhyanga Massage.
Nestled in the lush landscape of this popular Palm Springs hotel is a cozy bungalow where you can choose from a breadth of services to refresh your face and body. Additionally, every spa guest earns access to the hotel's fitness facility, outdoor jacuzzi, and Regency Pool to give you a full day of luxe restoration and recharging. And if you're staying at the hotel, you can also enjoy complimentary weekend yoga and meditation classes to feel even more zen.
Some standouts at the spa include the Ocean Dew Magnesium Gel Wrap, which utilizes a combo of magnesium (known to help reduce stress) and coastal herbs. To make this even more soothing, while your body is wrapped up in the warm, relaxing mask, your practitioner will top you off with a bliss-inducing oil scalp treatment. There's also the Turquoise Sage Mud Wrap for those who want an ultra purifying and calming effect, thanks to wild sages and lavenders as well as CO2 extract of arnica, which helps reduce any inflammation.
As for facials, Estrella customizes the experience to suit each guest's skin care needs, but everyone can expect a five-step routine that includes exfoliation, cleansing, extraction, massage, and a treatment mask to get you glowing. You can always opt to take it up a notch in the luxury department by adding on Age Defying Therapy (infrared light therapy plus microcurrent) or Detox Cure Extractions (targeted detoxification and blue light therapy).
If you're able to book a stay at this historic hotel in Palm Springs, one of the many benefits (besides the Frette sheets, Le Labo toiletries, and glamorous Art Deco eatery) is being able to schedule a spa service. Within the palm leaf-printed walls of this holistic hideaway, guests can partake in treatments that aim to restore you physically and spiritually.
Of course there are the tried-and-true face and body treatments, like a hot stone massage, a tropical body scrub, or a detoxifying seaweed wrap, but where the spa really stands out is in its wellness offerings. There's Craniosacral Therapy, which encourages healing and balancing by way of gentle touch on the skull and sacrum. There's also Auriculotherapy with Ear Seeds, which uses acupressure on points of the ear that correspond to stress, sleep, anxiety, and other imbalances. But if you're feeling the need to do a total overhaul, opt for the Transformational Journey. This immersive mind-and-body treatment includes tuning fork healing (which uses sonic vibrations to stimulate your qi and encourage healing), dry brushing, body scrub, body wrap, massage, and facial to transform you head-to-toe.
Just off Palm Springs' beaten path, in the Santa Rosa Mountains, is this hidden gem that offers a truly tranquil atmosphere and takes its wellness practices very seriously. Experiences here are focused around movement, nourishment, and rest. You can play golf or tennis to get some fitness in, or book one-on-one sessions with Sensei Guides to help you accomplish all the wellness goals you have for your retreat. There are also guided sessions geared toward your intentions, well-being, or lifestyle plan.
In terms of the spa offerings, highlights here include Thermal Body Mapping and Massage, wherein a practitioner creates a visual map of your body using thermographic technology. This map is intended to reveal the physical needs of your body, allowing the practitioner to completely customize your treatment. The Desert Herb Poultice and Oil Massage starts off with guided meditation, breathwork, and stretching before the massage, which makes use of native therapeutic flora to hydrate and further relax your body. Your session finishes off with an energetic healing practice to improve energy and balance.
You've surely seen the Korakia on Instagram, with its signature bougainvillea, dreamy private courtyard, arched doorways, and desert-chic interiors. But did you know about its plethora of wellness offerings? Add them to the list of reasons to book a relaxing post-Coachella getaway here (if you can).
You can get a little mystical with the Crystal Chakra Balancing Massage, which uses crystal-infused aromatherapeutic oils. Your practitioner will then tap into each of your seven chakras to bring balance, alignment, and deep relaxation. And if you're looking for a treatment that includes your better half, there's the Habib Albi Couples Journey, during which the two of you can enjoy a rosewater-infused foot soak followed by a candlelit massage using fragrant and stress-melting oils. Private yoga and meditation sound baths are also available to book with some notice, but guests can also partake in Saturday morning Sun Salutations, depending on the season.
So many of the amenities at this lush resort focus around your health and wellbeing — from the fitness center to the gold and tennis clubs. Even the landscape itself lends itself to being active (think swimming and hiking), but you can also balance all that physical activity with some seriously restorative spa treatments while you're there.
For example, reinvigorate your energy channels with the Abhyanga scalp, hair, and body massage. Or, if you want to really amp up the muscle recovery, try the Percussive Therapy with Hypervolt massage. A favorite of athletes, this contactless treatment features a device that harnesses the power of vibration, compression, and percussion to boost circulation and help you heal faster.
If it's your face that could use a little more TLC, try a Kombucha Wellness Facial to restore your skin's microbiome and give you a major glow, or go for the Organic Microgreens Facial to protect against environmental damage (like pollution). It's basically like a green smoothie for your skin.
This Desert Hot Springs getaway isn't your typical resort. Celebrities including Liv Tyler have been turning to the respite for its immersive and holistic healing therapies for years now. For example, there's a heavy focus on nutrition: You can take classes on Food Preparation and Organization or Gut Health and Recovery, or do a liquid nutrition detox. If you want to deepen your spiritual practice or intuition, you can take classes in breathwork, sound and crystal healing, or numerology. Guests here also earn access to spa services, including colonics, facials, massages, scrubs, and body wraps, during their stay.
Can't make time for an overnight stay? We Care Spa also offers a day pass option, which includes your choice of a 60-minute massage or facial, access to the aforementioned classes and healing installations, and a day of complete liquid nutrition. This is a surefire way to reset yourself after a few days of debauchery.
Take a look at the spa offerings at this luxury resort, and you'll notice the integration of ingredients and practices inspired by the natural surroundings. If detoxified and illuminated skin is your desired result after too much time outdoors in the desert, book the Precious Gemstone Facial, which includes microcrystal exfoliation and a gemstone mask. Or, if you want to be transported to a state of total relaxation, try Raindrop Therapy, which utilizes aromatherapy and warm compresses to help you achieve bliss while improving immunity. If you want get a little dirty, try adding on Artistic Healing Under the Desert Sky to any massage or treatment: using paint brushes and a variety of clays and muds in a private patio, you'll feel at one with nature as your skin is purified and softened.
Additionally, booking any treatment earns you unlimited access to spa facilities like the eucalyptus steam room, the Aqua Well Spa, and the River Bend Jacuzzi. But if those alone seem like enough to bring you the relaxation you came here for, you can simply purchase a day pass and get all your soaking and steaming needs covered.