The Healing Power of Letting Your Inner Child Play
TZR, Stocksy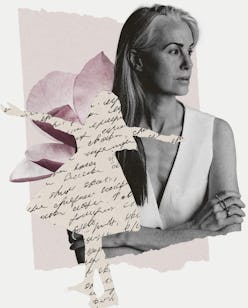 From playing hide and seek to dressing up Barbies, as children, playtime is a big part of our lives. However, as we become adults, letting our inner child play and do things purely for fun, such as singing, dancing, playing games, painting, or other activities we enjoyed as a kid, falls to the bottom of our priorities list. Why? Simply put: We're busy. We have tons of responsibilities soaking up our time and energy. And, living in a society that values productivity, playing is often seen as unproductive or a wast of one's time. That said, inner child play is actually a very productive and beneficial thing one can do for self-healing.
For those unfamiliar, this youthful kind of activity or practice is a component of inner child work, which Kobe Campbell, a licensed trauma therapist and author of Why Am I Like This?: How to Break Cycles, Heal From Trauma, and Restore Your Faith, explains is about acknowledging unaddressed pain from our childhood. Our inner child, she says, gets frozen in fear, sadness, or shame, and that follows us into adulthood. As adults, we can show up for that inner child and help them heal. "If we want to be healthy adults, we must go back to our childhood, see what is missing, and give it to ourselves," Campbell says. "This helps us heal the wounds of the past so we can fully show up in the present."
One powerful way to do this is by allowing our inner child the time and space to play. "What a child needs to develop into a healthy adult is the freedom to be a child," Campbell says. "Playing, exploring, and imagining are deeply important to the psychosocial development of a child and sets the foundations for confidence and autonomy as an adult."
Campbell notes that some benefits of inner child play include increased self-awareness, more joy, reduced anxiety, a more profound sense of freedom and safety, and a desire to prioritize play in your life. For example, Karen Robinovitz, co-founder and co-CEO of Sloomoo Institute, says inner child play was a key tool that helped her find joy in her life again after dealing with grief and loss. "It was making time to play that began to bring me back to life," she says. "Kids live in a natural state of wanting to play. As adults, we often forget how important it is to reconnect with that ability. I think it's vital. It recharges you, reminds you of what really matters, and triggers creativity, endorphins, and youthfulness."
Ways To Practice Inner Child Play
So what does inner child play actually look like? Campbell defines it as "any creative expression that is not measured, monetized, or evaluated by others," including activities like dancing, singing, drawing, painting, exploring outside, or spending the day at a theme park.
For instance, Robinovitz's activity of choice is playing with slime. "Squeezing, stretching, making bubbles, blending different colors together to watch how it changes — it brings me right back to [when I was] seven years old," she says. "One of my favorite ones smells exactly like the sugar cereal I had as a kid. Every time I smell it, I'm transported back to my younger self, sitting at our kitchen table, begging my mom for another bowl."
Meanwhile, Amahlia Stevens, founder of Vitamin A swimwear brand, enjoys painting with her kids. "Sometimes I tell a story, and we all just paint what comes to mind," she says. "Lately, we've been painting from observation; plants or flowers. It lightens my soul to paint." Going outside is also a fun inner child activity Stevens enjoys doing with her kids, whether by camping, going on a nature walk, or having a picnic. Rollerskating is also her latest obsession. "I love taking them skating at the rink," she says. "It brings me back to the fun and freedom I felt when I was their age."
In other words, there is no right or wrong way to let your inner child play. The only goal is to have fun.
How To Make Time For Inner Child Play
Given that, as adults, we have way more responsibility on our plates than we did when we were children, simply finding the time to play can be a challenge in and of itself. For this reason, Campbell's biggest tip for incorporating more inner child play is scheduling it. "Write a list of all the things you might want to try so you have some options in mind," she says. Then, "guard that time the way you would a work meeting."
Blocking out inner child play on her calendar works well for Stevens. For Robinovitz, on the other hand, her approach to playtime is to make it an integral part of her everyday life. "I am almost never in a meeting, in person or virtually, without having slime in my hand. That not only lightens the mood but also helps me focus," she says. "When I'm super stressed, I take a moment with slime to just enjoy it and be present, focusing on the satisfying sounds, scent, feel, and ever-changing forms."
Furthermore, inner child play doesn't necessarily have to be this big activity that takes up a lot of time. It can also be about making mundane moments feel more fun and magical, as children do. Stevens does this with her kids by having a dance party whenever they clean or tidy up. "It's so liberating to dance and sing; dance parties are the best mood booster," she says. Robinovitz also finds dancing an easy way to squeeze in inner child play. "When I hear a song that I love, I'm not afraid to dance in public, be it in a store or a lobby," she says. "I learned that from my mother, who is 77 [years old] and still doing the same."
The takeaway: Don't put pressure on yourself to make time for inner child play because that defeats the purpose of it. Instead, milk the joy out of the small moments and build from there.