PSA: Half-Birthdays Are A Thing, And Everyone Should Indulge
Consider it a form of self-love.
@shelbyeastman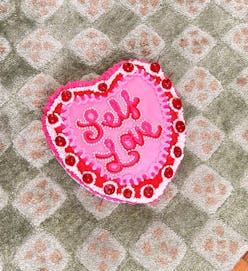 "You crack me up," "You are unreal," "I am dead at this OOO message." These are types of messages — combined with lines of skeleton emojis — I was met with when I posted carefree images of myself celebrating my half-birthday in Cabo San Lucas, Mexico. Many would agree that I am a birthday enthusiast, and they're not wrong. Born on June 6, I spend the majority of May and June taking mini trips, enjoying dinners with different friend groups, indulging in solo spa days, and taking intentional time-outs to reflect on the past year and the one ahead.
Last year, I found myself even more birthday obsessed than usual, commemorating my half- birthday in Cabo. Yes, I assure it is a thing, or it is now. After experiencing the transformative and healing effects of this type of occasion, ahead, I'm making the case for half-birthday festivities. Because, let's be real, a little self-love party can be so good for the soul.
My Half-Birthday Itinerary
As a freelance writer, I have the ability to work from anywhere. Meaning, my laptop accompanies me on the majority of my trips. However, for my half-birthday in December, I alerted all my directors that I would be unavailable and completely offline for my week-long vacay in Cabo with a few of my closest friends. And considering our excursions — a boat day, kayaking, beach time, karaoke nights, bar-hopping — I never once regretted my decision.
The four-night, five-day festivities started at the all-inclusive Breathless Cabo San Lucas Resort & Spa in the downtown area, close to all the shops, bars, and boardwalk. The hotel overlooks the harbor, where we spent a good chunk of each day enjoying bottomless sushi, ramen, salads, tropical rainbow drinks, and other culinary specialties of the beachside locale. We also took time to explore the town, taking day trips to neighboring hotspots and participating in walking and food tours.
Between activities my half-birthday crew and I spent time at the hotel's pool, soaking in the views and sun. We even took a half-day boat ride to El Arco, the majestic arches that erupt from the sea at the tip of the Baja Peninsula, where we also got to do some snorkeling. And the trip wouldn't have been complete without Cabo's party scene where we enjoyed dancing at three-story club El Squid Roe, tastings at Baja Brewing Company, and a plethora of epic luxe dining experiences.
Although there was an air of judgment from a few, coworkers, cousins, friends, and acquaintances commended me on honoring my half-birthday as a means to combat some of the stressors of daily. Some people even felt inspired to start their own mid-year parties after witnessing my open act of self-love.
A Little Party Never Hurt Anybody
Fact: I love observing any form of birthday: half, quarter, full. I believe these types of mid-year festivities can also have positive effects on those around me in that they offer an excuse for a mental reprieve and some much-needed "me" (or, in my case, "we") time. Self-care practices like this allow one to break away from the day-to-day mental strains and dial into the lighter, brighter moments in life.
Happiness, even for a temporary span of time, allows for a posture of joy that can jolt us back to a simpler time or a less-jaded version of ourselves. Think what you will, but these mid-year festivities are a wellness practice in that they make me feel loved, happy, and alive. So, happy half-birthday to me.