These 13 New Fragrances Will Reach Cult Status This Fall
@mugleroffical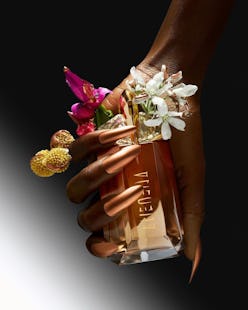 We may receive a portion of sales if you purchase a product through a link in this article.
You've swapped out your sundresses, shorts, and sandals for wool sweaters, warm scarves, and boots, but your fall aesthetic isn't complete without a few spritzes of a complementary fragrance. From warm spices to sultry musks, there are a number of classic cold weather scents you can rely on year after year, but if you're struggling with figuring out what you want to smell like this season, why not try one of the best new perfumes of fall 2023?
For those who adhere to a timeless capsule wardrobe, a number of design houses have created reimagined takes on their classic scents. Take Dior's floral J'Ador L'Or and Mugler's Alien Goddess Supra Florale as two examples. If you subscribe to adopting an entirely new style identity each season, there's a handful of options to spritz on for the one to come. Revisiting the early 2000s by partaking in the indie sleaze trend? Try Liis' Ethereal Wave. Into the stealth wealth look that's carrying over from summer into fall? Reach for Chanel's Chance Eau Fraîche. Alternatively, if you choose fragrance based on your mood or that day's itinerary, these perfumes will suit every scenario.
Ahead, TZR's highlight reel of the best new fragrances of fall 2023, along with when to wear each scent.
Best Fall 2023 Fragrance For Warm Weather Getaways
Best Fall 2023 Fragrance For Beating The Seasonal Blues
Best Fall 2023 Fragrance For Cozy Nights In
Best Fall 2023 Fragrance For Wearing Outdoors
Best Fall 2023 Fragrance For First Dates
Best Fall 2023 Fragrance For Those Missing Summer
Best Fall 2023 Fragrance For The Eco-Conscious
Best Fall 2023 Fragrance For A Dose Of Nostalgia
Best Fall 2023 Fragrance For Girls' Night Out
The Best Fall 2023 Fragrance To Wear To Concerts
Best Fall 2023 Fragrance For Hopeless Romantics
Best Fall 2023 Fragrance For Feeding Your Inner Delusion
Best Fall 2023 Fragrance For Diehard Floral Fans
This article was originally published on