Rachel Zoe's Inspiration For Zoeasis 2019 Is All About Riviera Chic
Getty Images // Stefanie Keenan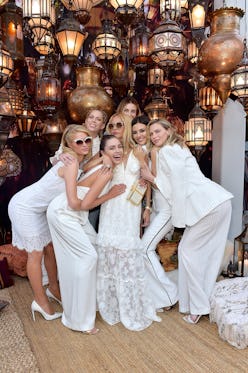 Each April during the first weekend of the Coachella Valley Music and Arts Festival, The Zoe Report and Rachel Zoe host Zoeasis, an evening desert party in Palm Springs. Designed to offer guests a relaxing respite from the shenanigans of the Coachella festival, the oasis exists for one night only at the famed Parker Hotel in Palm Springs.
If music and friends are the best parts of Coachella, the breathtaking environment and balmy temperatures are a close second, which is why this party is set up more like a vacation destination than a rave. As a nod to the Palm Springs' vacation set of decades past—the likes of Marilyn Monroe and Elizabeth Taylor had houses there—and Zoe's signature aesthetic, everything from the decor to the drinks is designed to be glamorous. We asked Zoe what she is excited about, her desert style tips and the trends she predicts will be big this festival season.
The Inspiration
Last year the event was inspired by Marrakech, with Positano covering the moodboard the year before, so it's no surprise that Zoe drew inspiration from another of her favorite vacation destinations. "The glamour of St. Tropez is undeniable," explains Zoe, who has frequented the coastal town on the French Riviera for years. "From their storied hotels and beautiful beach clubs to excellent boutiques and delicious restaurants, I can never get enough." In fact, Zoe drew inspiration for her Spring 2019 collection from St. Tropez, which lends itself handily to guests looking to dress for the theme.
The Looks
Rarely seen in anything other than a maxi dress or a sharply tailored suit, Zoe will undoubtedly embrace an ethereal style for the event. "Especially in the desert, its important to feel breezy and effortless," says Zoe, who is likely to don a wedge sandal, flowing dress and layers of statement jewelry. Although a creature of (albeit stylish) habit, Zoe appreciates the gumption with which other attendees embrace Coachella style. "I'm always impressed when I see elevated interpretations of traditional festival garb, like subtle touches of fringe, crochet and layered jewelry, rather than overly revealing or loud outfits," says Zoe.
Her Style Tips
For anyone heading to an outdoor music festival in the summer, or just a sun-drenched destination, Zoe is full of style tips. "Aside from the usual essentials—hand wipes, sunscreen, chapstick—I remind people to prioritize accessories over complicated outfits," says Zoe. (For anyone who has worn a jumpsuit to a festival, this rings particularly true.) "I always bring a lightweight silk scarf which can function as a headband, belt, bracelet or an added layer of warmth when the sun goes down; some lightweight bracelets for shine, and comfortable shoes." Wise words, whether you're traversing festival grounds or discovering a new city. What constitutes a comfortable shoe for Zoe? "A platform wedge sandal!" Obviously.
Shop Her Selections
The perfect lightweight leather short that stands away from the body and provides a little extra warmth at night when it gets chilly.
A ruffled top is a great breezy staple for hot climates. This version can pair with everything from high-waisted jeans to slim midi skirts.
A comfortable dress that looks effortless for day or night, is a necessary summer festival staple.
A printed silk scarf that takes up minimal purse real estate but adds major flair to any outfit. Choose between one of these two styles in the current Box of Style.