Priyanka Chopra Wore The Perfect White Dress To Her Bridal Shower
Jared Siskin/Getty Images Entertainment/Getty Images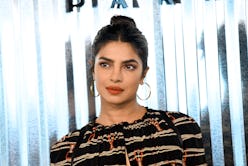 Since confirming her engagement to Nick Jonas in Aug., the fashion-obsessed have kept a close eye out for Priyanka Chopra's bridal shower outfit. When the occasion finally came on Sun., Chopra — unsurprisingly — opted for a stunning white number. Her look struck the perfect balance between trendy and timeless, and will likely inspire you to invest in an elegant white dress the moment you lay eyes on it.
Chopra was photographed in New York City on Oct. 28 en route to her bridal shower. For the celebratory occasion, which was held at the Blue Box Café of Tiffany and Co.'s flagship store in Manhattan, the bride-to-be donned an elegant white midi dress that had many wondering if the 36-year-old was subtly — or not so subtly — hinting at her wedding dress' possible design.
The actor's neutral-hued Marchesa cocktail dress features a strapless bodice and a feather skirt with stunning ivory embroidery and an oversized bow decorating the back. Because the gown is already so statement-making on its own, Chopra kept her accessories to a minimum, opting only for a simple diamond necklace and a cream-colored Jimmy Choo clutch that perfectly complemented her tan Christian Louboutin heels.
Just last weekend, Chopra debuted super-glossy, waist-length hair, but for her bridal shower, the actor's signature hairstyle — loose, undone waves that land just below her collarbone — made a comeback.
As one would expect, Chopra's bridal shower, which was hosted by her bridesmaids Mubina Rattonsey and Anjula Acharia, was chock-full of celebrity attendees. It boasted a guest list that included the likes of Kelly Ripa, Lupita Nyong'o, and Kevin Jonas, who attended with his wife and daughter, according to Us Weekly.
Chopra and Jonas confirmed their engagement via Instagram in late Aug. of this year. The 25-year-old singer shared a photo of Chopra with the caption, "Future Mrs. Jonas. My heart. My love." Shortly after, the 36-year-old actor posted the same image, writing, "Taken.. With all my heart and soul.."
Though no official news has been released regarding Chopra and Jonas' actual wedding date, it could take place as early as December 2018, reports Us Weekly.
Whether Chopra has already picked out her wedding dress remains, but her bridal shower outfit is certainly one for the books. The dress may be a good indictor of the type of gown she'll pick for her big day — one that's equal parts classic and unique.
Inspired by Chopra's elegant bridal shower look? Ahead, The Zoe Report's favorite white dresses to take into the holiday season and beyond.
Shop The Look