Why Winter's Must-Have Statement Coat Is Something You Should Feel Good About Buying
Zazi Vintage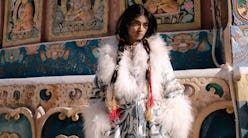 It's no longer enough to launch a line of clothes that look good. Instead, fashion designers must consider their social and environmental impacts, as well as devise strategies to steer consumerism in a more optimistic direction. Zazi Vintage, a label known for its statement coats, is one label proving that it's not only possible to make sustainability a priority, but rather, that it's a necessity.
Though she now travels around the world to for new projects, she's become best known for the brand's one-of-a-kind Suzani coats, made from up-cycled materials sourced along the Silk Road and made by female artisans in southern Asia. The designs have a rich history and a vintage aesthetic, but still feel modern and relevant in the Instagram age. While you can easily imagine styling the coat with wide-leg jeans á la Penny Lane in Almost Famous, the bespoke designs have the same goes-with-anything appeal of vintage-crafted Bode, or the iconic designs of Copenhagen favorite Saks Potts. It's proof that modern luxury doesn't have to be simple or minimalist. Ahead, co-founder Jeanne de Kroon talks how Zazi Vintage is championing for a collective shift toward sustainable luxury.
Three years ago Dutch entrepreneur Jeanne de Kroon was visting Jodhpur, a city in the Rajasthan state in India when she met Madhu Ji. At the time, de Kroon was living in Berlin, selling vintage dresses and teaching yoga in the park and Ji had recently started an NGO, IPHD in her husband's home village. "[Ji] started with 100 dollars in her mother-in-law's small house, which was surrounded by village goats and hot desert air. I started with the little savings I had from teaching yoga," de Kroon explains. Together, they decided to develop a small clothing collection. "With a few Indian newspapers turned into fashion patterns and some '80s silk from Uzbekistan I collected, we made the first Madhu dresses. This set the foundation for what Zazi is now."
From there, De Kroon has continued to introduce new collections of coats and dresses, building a network of sourcers and artisans to produce the items. For her iconic Suzani coat, access to the luxe vintage fabrics came from a personal relationship she built with a family in Afghanistan that specializes in sourcing local materials. While in the beginning the relationship allowed her to purchase items for her own closet, the relationship grew, "at some point they became my main business partner," she explains.
Suzani is a type of embroidery sourced from Tajikistan, and was traditionally made by a bride as part of a dowery. But, the family de Kroon works with helped popularize the design, dressing The Beatles and other rock stars in the designs during the '70s. "The family I work with is the family that made these," de Kroon shares. "They have a legacy of making these coats for both the national and international market ... my love for that one coat Jimi Hendrix wore gave birth to Zazi's Suzani coat."
The coats' linings are actually constructed from upcycled Mongolian rugs, trim is repurposed from old pieces found in Karachi, Pakistan, and the outer uses embroidered Suzani fabric sourced in Kyrgyzstan, Tajikistan, or Uzbekistan. Then, it's assembled by families in Afghanistan. "I try to make as much from upcycled fabrics," she says. "Unless I can truly make sure that everything from the seed to the weaving happens in a respectful way."
As for production, "nobody we work with works in a factory, everyone earns above a living wage, and [they all] have a space to create out of the comfort of their homes," de Kroon says. The website offers a price transparency report that meticulously lays out the value chain of their production process so customers can educate themselves on why their coats cost what they do (typically around the 1400 Euro mark). "Luxury is something that is made with human creativity, I hope that in the future we won't associate luxury with a certain name but can [acknowledge] the work."
Beginning with materials and labor all the way to transportation, customs, and retail markups, Zazi Vintage's high degree of transparency is unique for a luxury label. Increasingly direct-to-consumer brands like Everlane and Naadam are choosing to explain their costs to interested customers. In the luxury space, this level of detail can help shoppers to understand the value of their investments. "The coats are so expensive! I totally get that the coats are not for everyone," de Kroon shares. "But I do hope to inspire [others] to think differently about how you connect to the clothing you wear. I believe that you can really buy more responsibly on any budget by simply choosing vintage or reinventing your closet."