Lauren Conrad's New Brick-And-Mortar Store Has The Coolest Concept
Courtesy of The Little Market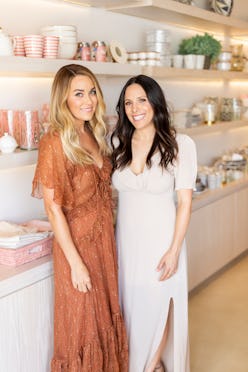 You know her as the Orange County native who came of age on your TV screen and/or as the successful business woman and clothing designer. But for some, she's Lauren Conrad of The Little Market, one half of the dynamic duo that's making female entrepreneurs' dreams come true.
Since 2013, Conrad's nonprofit, which she started with friend Hannah Skvarla (a human rights activist), has partnered with dozens of artisans around the world, showcasing their ethically made home goods products online — and, now, in-store.
The Little Market's first brick-and-mortar shop opened its doors in Pacific Palisades, California, featuring all manner of spa goods, accessories, candles, and dining essentials. "Every product we carry is carefully handcrafted by artisans, so it makes a huge difference when you can see and hold the products in person," says Conrad. "The intricate details are harder to capture online. Our shoppers will also learn more about how important their role is in supporting dignified job opportunities. "
The Little Market itself was first inspired by a trip to Africa that Conrad and Skvarla took to visit nonprofits supporting women and children. "The women we met told us that they wanted a reliable source of income to be able to support their families and rise above poverty," says Conrad. "In every village we visited, we saw beautiful handmade goods crafted by talented artisans preserving their traditions. We realized that by connecting these women with a larger audience, we could help them earn more money, creating lasting, sustainable change for women all over the world."
The beauty of this concept is that each product possesses a unique quality that's representative of the country, city, and community it hails from. Think hand-woven raffia totes from Madagascar, hand-painted ceramic bowls from Morocco, pom-pom bracelets from Peru, and kantha quilts from Bangladesh, all of which help females earn fair wages and provide for their families in the long-term. "Globally, when women have their own source of income, everything changes — domestic violence decreases, they send their daughters to school, and this has a domino effect that affects future generations," says Skvarla.
In the span of five years, the two women have grown a network of some 66 artisan groups in 28 countries — and it's not without its challenges. "Communication is not always easy — many of the artisans don't speak English, so we rely on translators," says Skvarla. "Also, many of the artisans we work with live in remote areas without reliable internet access, which can make placing orders and product development take longer. We are really flexible with shipping and have learned how to quickly adjust if packages arrive later or differently than expected."
And their efforts have been fruitful. Conrad recounts the success of one partner in particular, Moo Kho, one of the many artisans for The Little Market. In 2008, Kho was living in a refugee camp outside of Burma in Thailand with her family, where she had limited opportunities for growth and education. "She and her family came to the United States, and in 2010, she began working with Prosperity Candle as an apprentice candlemaker," says Conrad. "... She was given an opportunity and became the production manager in 2012, training other female refugees who are in the same position she once was."
Stories like this add fuel to The Little Market's growing fire. Conrad says the brand is always on the lookout for opportunities to expand its product offering and to connect with even more female artisans around the world — and that includes the U.S. "We learned about an organization creating jobs for at-risk young moms in Chicago, and we knew we wanted to develop products to help these women earn a steady income to help themselves and their families," says Skvarla. "So in my kitchen, we created a collection of sugar scrubs and soaking salts for them to make."
With the opening of its first stand-alone store, it's clear things are looking up for the non-profit and its talented fleet of female artists. "Having a physical space will allow us to directly connect with consumers in person, which is really important to us," says Skvarla. "Opening more stores in the future would be amazing, but we're really focused on making this one a success first. We're taking it one step at a time!"