The Shea Butter Skincare Alternative That Smells Good & Makes My Skin Feel Better
Herbal Dynamics Beauty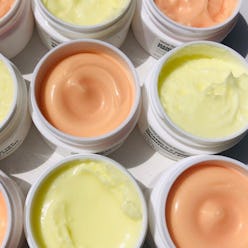 It's high summer, and your skincare products need to do a lot: brighten, protect, and hydrate — preferably without clogging your pores, thanks. And if they happen to smell like a tropical vacation in a bottle? Well, that's just a bonus. Such is the case with the mango and mango butter skincare products taking over summer beauty routines everywhere.
First thing's first: Not all products with "mango" on the ingredient list are created equal. "Mango extract comes from mango skin," Dr. Devika Icecreamwala, a dermatologist with Icecreamwala Dermatology in San Francisco, tells The Zoe Report. "Mango butter is made from the seeds of the mango." Some products even feature mango juice; and all three have distinctly different benefits.
Since the skin (or peel) of fruits and vegetables is the most nutrient-dense part, mango extract contains a high concentration of the vitamins and minerals found in mangoes. "Mangoes contains vitamin C, A, E, K and B6 as well as copper, potassium, magnesium, and beta-carotene," Dr. Icecreamwala says. "Mango extract contains many of these vitamins and minerals, which act as great antioxidants for the skin." Antioxidants, in layman's terms, help heal damage from environmental aggressors (like pollution and UV rays) and protect from future damage, too. Since the aforementioned aggressors can cause all kinds of issues, antioxidant mango extract can help in all kinds of ways.
"Mango extract helps enhance hydration and improve skin tone," Moe Kittaneh, the CEO of Herbal Dynamics Beauty, tells TZR. "It also supports healthy, radiant skin and cell renewal, working against inflammation while soothing." Dr. Icecreamwala adds that the vitamin C content even helps skin rebuild its natural collagen stores. "Mango extract offers benefits for all skin types, but is particularly helpful for dull or mature skin," Kittaneh says.
Looking for a little more hydration? Look no further than mango butter. "Mango seed butter is very creamy, so it is more moisturizing than mango extract," Dr. Icecreamwala says, noting it's also high in antioxidants. Lest you think that creaminess leads to clogs, you should know that this stuff sinks into skin quickly (unlike other butters, like shea and cocoa) and is non-comedogenic. "It has a texture that absorbs well but is really hydrating," Suzanne LeRoux, the founder of Grace + Tonic, tells The Zoe Report. "We love it because it is loaded with essential fatty acids, and is extremely nourishing but it does not clog pores or aggravate acne-prone skin — which is a real bonus, because I see so many women who have a few blemishes dehydrating their skin by using the wrong products." A summer skincare miracle? All signs point to yes.
The rarest form of mango — at least in the beauty world — is mango juice. It shares many of the same properties as the fruit's extract and seed butter: "Mango juice is naturally high in vitamins A, C, and B6, which can help to boost collagen production, clear breakouts, and fade hyperpigmentation," Trinity Mouzon, the founder of supplement-turned-skincare brand Golde, tells TZR. So what sets it apart? Mango juice also naturally exfoliates. "It contains natural alpha hydroxy acids (AHAs) that can exfoliate and smooth the surface of your skin," Mouzon says. The founder first turned to mango juice to balance out the "ultra-green scent" of her brand's Clean Greens Face Mask, and give it more of a "tropical vacation" scent instead. "The bonus of using only natural ingredients is that by adding mango as a balancing agent, we gained all of the incredible skincare benefits of it as well," she laughs.
There are, as always, some risks to note. "People who have contact allergies to the fruit itself may wish to avoid the ingredient," Kittaneh says. Dr. Icecreamwala warns that mango skin contains something called urushiol… which is also present in poison ivy (yikes). "Because of this, people can be allergic to mango extract," she says — although thankfully, that's not a common occurrence.
Ahead, shop 12 smoothie-worthy products to take your summer skincare game to the next level.
Shop Mango Skincare