Spraying Your Hair With Perfume Can Lead To Damage — So Use This Instead
EX NIHILO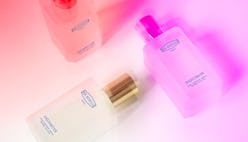 It's 114 degrees here in Southern California as I write this, and I don't want the word "heavy" anywhere near my beauty routine, thank you very much. No matter where you are at present, from the humid streets of New York City to the beaches of Miami, I'm sure you can relate. When it's this hot out, summer beauty needs to feel light, airy, and fresh — which is probably why fragrance for hair is trending. Scented hair mists are an easy, effortless alternative to traditional perfume (and you won't sweat them off, either).
Opting to use a "hair fragrance" isn't as simple as spritzing your go-to scent in your strands instead of on your skin, though. Most of these products are specifically formulated with hair health in mind. "Alcohol can be drying to both skin and hair and can also irritate, and regular eau de parfum contains a high percentage of alcohol," Bee Shapiro, the founder and CEO of Ellis Brooklyn, tells The Zoe Report. When formulating its Myth Hydraparfum — a sprayable, water-based gel — Ellis Brooklyn ditched the alcohol and added hyaluronic acid for deeper hydration. "Hydrating skin or hair helps with fragrance longevity," the founder explains. And with a scent as good as Myth's bergamot and jasmine mix, that can only be a good thing.
There are even options that smooth frizz, like the Hair Fragrance Mists from DefineMe. "Ours are not only hair-safe, but they have ingredients such as provitamin B5 to help the hair feel silky and take frizz away," Jennifer McKay Newton, the brand's founder and CEO, tells TZR. "We've also added chamomile extract to enrich color radiance and moisturize and soften hair, as well as aloe vera, which leaves the hair smooth and shiny." Three new hair fragrance launches from Paris-based perfumery Ex Nihilo — known as Les Sublime Mists — include keratin to "provide protection and repair," as a brand representative tells The Zoe Report.
"Not only does hair fragrance work perfectly with dry shampoo and other products, it also helps your hair stay fresh without having to wash it everyday," McKay Newton explains — a total win in the summer, since sweat tends to build up on strands. And because hair holds onto scent longer than skin does — especially sweaty skin — McKay Newton recommends spritzing on a hair mist before you hit the gym or run errands under the scorching sun. Finally, using one of these babies cuts down the number of products in your daily beauty regimen when it's too hot to even think about a 10-step routine.
Application is simple, too. "Spray about three to four inches away from hair and you're all set," Shapiro advises, with McKay Newton adding it's best to spritz fragrance onto dry hair (it doesn't matter if it's clean or dirty, though). "I love scenting hair because it's such a subtle, natural way to wear fragrance," Shapiro says. "When you move, your hair will trail fragrance and it's never this overwhelming kind of thing." Um, sign me up, please.
Ahead, nine hair fragrances practically made for summer — whether you prefer a flirty floral or a clean unisex scent.
Shop Hair Fragrance