Is This The Clean, Sustainable Makeup Brand Of My Dreams? (Yes)
Saie Beauty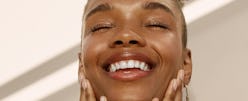 New clean beauty brand Saie makes a mascara that gives me the long, feathery eyelashes of a wide-eyed Gerber baby. (Why is it that babies are blessed with the best lashes, anyway?) The brand's Brow Butter fills my sparse spots in a way that looks natural, and not like I'm trying to be Cara Delevingne. Its Liquid Lip Balm can only be described as an elegant, updated Chapstick for the eco-conscious. Have I made it clear that I am into these products? I am into these products. But this particular Saie Beauty review is less about its products, and more about its mission.
Saie — that's pronounced "say," as in, "Say hello to your new favorite mascara" — is the brainchild of founder and CEO Laney Crowell, a former Estée Lauder executive, and an impressive team of industry veterans. The company's Head of Product Development, Sarah Tallman, has 20 years of experience creating cosmetics; since being diagnosed with breast cancer, Tallman only works with clean ingredients. Geri Hirsch, Creative Director, is the fashionable force behind Because I'm Addicted; and Hanna Wiegers, Head of Operations, is the brand's sustainability expert (and a former CAP Beauty employee). "It was important to me that being clean and being sustainable were priorities in their personal lives," Crowell writes of them on the Saie site. "It's hard to formulate clean beauty and it is hard to be sustainable, the only way to do it is if you are passionate about it."
Hearing that, it would be easy to categorize Saie as another lovely "clean" and "sustainable" beauty brand — it seems like a new one launches every day — but that would be selling Saie short.
Its ingredients go beyond the traditional trappings of "clean" (and may I remind you, "clean" has no legal definition): Not only are they non-irritating and non-toxic to the skin and body, they're also non-irritating and non-toxic to the planet. (Plenty of supposedly "clean" brands use silicones, for example, which don't harm humans but do build up in the environment.) These standards mean there are over 2,000 cosmetic ingredients on Saie's "No List," which is impressive — but not as impressive as its "yes" list. Organic beeswax and shea butter make for a mascara that holds without flaking and moisturizes while it wears. A combination of cacao seed butter and jojoba means Saie's Brow Butter conditions brows and keeps them in place. The Liquid Lip Balm's squalane and coconut oils are refreshing alternatives to the petrochemicals — petroleum, mineral oil, and paraffin wax — more commonly found lip products.
Also refreshing: Saie's honest stance on sustainability. "Sustainability within the beauty industry is a big issue and there's no way to solve it overnight," the brand explains on its site. "We're not going to pretend we'll get it right all the time. We're committed to transparency from product to process — giving you the information you need to make better decisions and to shop responsibly." That being said, Saie is doing a pretty good job. Its boxes are made of recyclable cardboard. Its orders are padded with organic cotton balls (for removing your makeup, of course) instead of bubble wrap. Its ingredients are biodegradable. Its bulk shipments are sent via ocean or ground instead of air when possible, which it offsets with carbon credits. OK, its products are housed in post-consumer recycled plastic — but it plans on being plastic-free by 2021, and in the meantime, customers can mail back used products and Saie will properly recycle them itself.
While Saie prioritizes sustainability, it doesn't do so at the cost of cool-factor or functionality. As the brand says, "High performance product, sustainable packaging, and products with style are just as important as good, clean ingredients." The products work just as well as, if not better than, their non-clean counterparts (Brow Butter has been hailed as a "clean Boy Brow") and the Saie aesthetic is, in a word, Insta-worthy — from its signature color (electric lavender) to its pop-art-inspired graphics.
"People are being sold products that do harm to their bodies," the brand summarizes, and "beauty can do better." It can, and with Saie setting a new standard, it will.
Shop Saie Beauty