The Best Wedding Guest Dresses For Fall (Because It's Not Over Yet)
Clint Spaulding/WWD/Shutterstock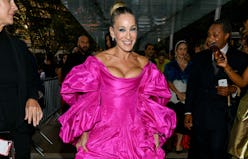 Weddings aren't necessarily the time to test out the latest straight-off-the-runway fashion trends. Some ceremonies are traditional, especially when the couple are a bit old school. But if a summer full of celebrations have left you bored with your usual options, don't resign yourself. There are certain on-the-rise styles you can wear to a fall wedding without upsetting the duo who invited you. In fact, pushing boundaries a little bit may just nab you that coveted unofficial best dressed wedding guest title.
The best wedding guest ensembles champion personal taste over fitting into the mold, all while never taking the attention away from the bride. The key to the contemporary wedding look is to rethink the usual details of your ensembles and bring a modern twist to traditional styles. Less formal affairs, for example, provide ample opportunity to test drive statement pants in luscious materials like silk, satin, or velvet instead of the usual floor-length dress.
Or, give the essential LBD an upgrade for cocktail-style weddings by shopping for styles in voluminous Renaissance-inspired shapes. Black tie ceremonies feel a bit less prescriptive when you opt for any one of the long-sleeved gowns on the market that while modest are also plenty bold.
Scroll down for the most up-to-date ways to celebrate wedding guest fashion this year.
Touch Of Drama
One-and-done looks like shifts with strategic layering or full-skirted gowns are the way to go for black-tie receptions that call for refined drama. But instead of whipping out the usual strapless column gown, try a dress that is unapologetically decadent without a drop of sparkle. Princess sleeves or flounce waist details were seen on runways like Valentino in rich primary colors like tomato red — a once-avoided hue that's fair game for a wedding these days. Pair with shoes in a similar shade for a contemporary monochromatic effect.
Cool Coverage
If you want a little extra coverage for indoor/outdoor I dos, choose a long-sleeve column style that hits the ankle or just about grazes the floor. Oversized prints paired with a sleek silhouette hit just the right balance. For an extra trendy take, try bright colorways, but if you don't want to go too bold, graphic jewel-tones work too. Make sure accessories are simple, like a mini bag and single-strapped sandal or slide.
Renaissance Flair
The short and sweet black cocktail dress is reborn in 2019, inspired by vintage frocks and historical silhouettes. Oversized sleeves and high volume hems — popularized by Cecilie Bahnsen — along with textures like taffeta, and velvet are well suited to an evening of toasts and dancing. Add a trending headband or black velvet bow to capture a look that is distinctly of the now.
Party Pants
With the rise in popularity of sharp suiting, try swapping your usual dress for luxe pants and a blazer. Silk, velvet, or satin options work just as well for low-key affairs as for elegant evening occasions. Think sleek, strappy sandals in a barely-there tone and delicate, personal jewelry to round out the look.
Fall Florals
Swap out the bright florals of spring for a darker, romantic fall take inspired by brands like Brock Collection and Preen. Sidestep boxy or overly adorned styles and instead search for form-fitting numbers that have a little bit of frill. Asymmetrical hemlines and off-the-shoulder options feel especially different. Wear with ankle-strapped heels and a coordinating bag in a soft shape that is a refreshing departure from your go-to box clutch.