This Unassuming Runway Trend Will Be Everywhere This Spring
Courtesy of Alejandra Alonso Rojas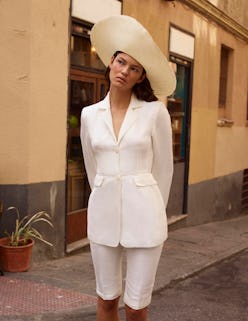 Perhaps the most exciting trend to have emerged from recent fashion months is the celebration of individuality. Beyond the bells and whistles (and thoughtfully crafted Instagram-worthy moments) at shows, designers are finally acknowledging the diversity of the client base and are championing that variety through their unique aesthetic lenses. Ranging from Christian Siriano's fanciful rainbow metallics to Bevza's refined monochromatic austerity, the through line lies in designers' willingness to break through the stuffy, unapproachable reputation previously associated with fashion. It's particularly poignant, then, that one of the most commonly riffed-upon pieces during NYFW Spring 2020 was the uptight white suit.
But unlike the connotations of years past, where the white suit has been associated with The First Wives Club and Bianca Jagger's wedding day, these reinterpretations are decidedly wearable. So wearable in fact, you might just find yourself trading in your jeans-and-a-blazer ensembles for this crisp alternative come spring. Yes, you may need to carry a Tide pen in your purse just in case of emergency, but it will be well worth it. Below, you'll find the hallmarks of the trend's versatility and perhaps even be inspired to test the trend in the months to come before it hits full-blown icon status.
Simplicity
If you've embraced matching sets in seasons past, you can agree a coordinated get-up takes the guesswork out of getting dressed. Never is this more valuable than when it comes time to go to work, which is why the white suit is so alluring. Unless you work in a very corporate environment, a suit is likely not an option you rely upon during the workweek because it feels too obvious, but in white or off-white, it is entirely fresh. Worn alone or layered over a simple blouse, the result is equal parts sharp and effortless. And for evening, the white suit really shines. Amid a sea of cocktail looks, what could be cooler than crisp tailoring? Rather than a fussy printed look, the palette-cleansing white suit feels like a breath of fresh air. Designer Marina Moscone, whose meticulous tailoring is a hallmark of her brand, envisions her iteration being worn in a multitude of ways; "I would love to see her wear as it was shown on the runway for new evening in lieu of expected cocktail attire, for daytime with a long tunic, over a slip dress … that's the idea behind the collection, everything is open to interpretation and should fit into the context of her everyday life."
Comfort
For many, nothing is more valuable sartorially speaking, than an outfit that looks polished when worn with flats. Even the smallest heel can become a nuisance when your day involves multiple appointments, errands and a commute. The joy of a luxe suit lies in its ability to communicate elegance, with minimal accessories. Of course you can add your own flair, but the point is that it doesn't necessitate extras. In fact, many of the season's best white suits feature mixed and matched fabrications, like Deveaux's satin trouser and oversized blazer pairing, or unexpected silhouettes, as demonstrated by The Row's high-necked blazer and full skirt iteration, or even truncated bottoms, as seen on the short suits at Carolina Hererra and Alejandra Alonso Rojas. The main takeaway here? The silhouettes available in the white suiting category vary so widely that you can choose your own adventure and celebrate your personality in the process.
Confidence
Not only does head-to-toe white communicate you are an adult who doesn't spill, more importantly, it demonstrates that you are comfortable commanding attention. And unlike many ensembles that require a certain level of unflappability to be boldly worn in public, (looking at you, sheer trend), the white suit is surprisingly easy to embrace. Go for a slouchy style with a bold shoulder a la Proenza Schouler, or channel a retro Annie Hall vibe with Marc Jacobs' three-piece suit. Tommy Ton, Creative Director of Deveaux, whose second collection featured plenty of wearable, tailored pieces, focused on "playing with freedom of movement and silhouettes that were loose and effortless." And yes, there is also something to be said for the significance of a white suit. It was most recently donned by scores of female politicians in Congress as a show of support of womens' rights during a 2019 State of the Union address. Standing up for what you believe in? That's a trend worth getting behind.