These Are The Best Places To Shop For Plus-Size Wedding Guest Dresses, According To A Stylist
11 Honoré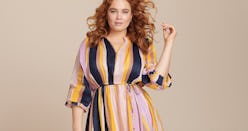 The Save The Date card is hung up on your fridge. The registry has been scoured, and the gift's bought, wrapped, and ready. The only thing left to do before your friend's wedding? Find the dress of your dreams. And if you're looking for plus-size wedding guest dresses, you're in luck: Insider tips on where to shop this season are ahead.
Because, really, buying a dress can be a bit of a hunt, even if you are just attending the wedding as a guest. To streamline your quest, The Zoe Report asked two fashion lovers where they turn to for size-inclusive styles: wardrobe stylist Jordan Grossman and up-and-coming influencer Sydney Scott. And while they may pursue different aesthetics — Scott describes her style as part "disco milkmaid" — the list offers something for everyone. (After all, there may be some discoing once you take to the reception's dance floor.)
Of course, the website that connects fashion lovers with designer clothing in sizes 10 through 20 is first on the list. "11 Honoré truly has the best options for sizing," Grossman tells TZR over email. "Even though it's a bit more expensive, you cannot beat the quality or how it fits. It is always on point and on trend."
And Scott agrees. "11 Honoré is a great resource for purchasing designer [clothing] because it's easy to shop and there are a wide variety of styles and price ranges! It really goes the extra mile by asking designers to make plus-sized pieces, and serving as the platform for these designers to reach women of all sizes, which is really cool," she tells TZR via email.
Another icon landed on Grossman's list as well: the always stylish Kate Spade. "Kate Spade just fits really well. The [brand] also tends to do more feminine type styles that can be worn during the day or at night," Grossman explains. "This works well for a wedding that starts early on and ends in the evening."
"Rent the Runway is my 'old faithful' definitely, because it's size inclusive, cost effective, and sustainable," Scott says of the online fashion rental company, which stocks dresses in sizes 0 through 22.
"Rent the Runway is my favorite resource because it cuts out the wastefulness that is often seen in shopping exclusively for particular events. [It] solves the problem of buying something for a one-time use," Scott adds. "It has such a wide variety of styles and its customer service is so committed to making sure everything fits... even if that means overnighting you new dresses before an event (which has happened to me before)!"
Not in the mood to rock a dress at the wedding? "Rachel Roy has really great separates. Blazers, blouses, and suiting," Grossman notes. "She comes out with new styles all the time which is great for mixing things up. Her price point is also affordable for everyone." That's not to say that Rachel Roy doesn't stock chic dresses, though — because the brand seems to have one for any type of soirée.
Finally, Reformation — which officially began offering an evergreen size-inclusive collection in March — won a spot on Scott's list. "[The brand] offering pieces in more inclusive sizes is so exciting because I'm now able to participate after years of window shopping," Scott says. "Reformation's look is definitely that 'cool but not trying too hard' look plus-size women rarely have access to."
For anyone looking to integrate their new dress into their style book, shop the designer Marina Rinaldi. "Marina's quality of clothing is life-changing," says Grossman. "Everything is made with really expensive fabric and will last you years. She also does really fun brand collaborations. She just did one with Fausto Puglisi that was amazing."