Heading To The Beach This Holiday? This Is The 1 Thing You Need To Pack
Christian Vierig/Getty Images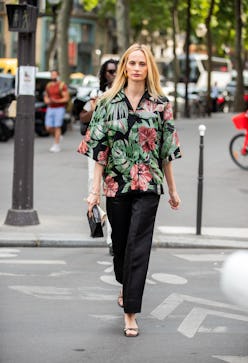 Your summer wardrobe is most likely tucked away gathering dust at this point in the year. But, if your holiday travels are taking you somewhere warm, the time has come to revisit your June-to-August looks once again. If you're currently wrestling with what to pack for your next winter beach vacation, consider a range of trendy warm weather-approved pieces (think: bright colors, funky prints, and lightweight fabrics) that will still be in style six months from now when the temps warm up for spring and summer.
Let's start with the good news: Since you're not trying to fit a parka or bulky sweaters into your luggage, it's certainly easier to pack for a trip to a warm destination. Still, you want to think strategically to maximize your outfit options. "I love wearing matching sets on a vacation to the tropics because it's the easiest way to pull off an effortless look in humid weather," influencer Serena Goh tells TZR. This year alone Goh visited beaches in locales including southern Italy, Portugal, and Bali, meaning she's had plenty of practical experience on the matter. Mix- and-match separates like a coordinated set make it easy to create a streamlined look, or to swap in staples for a more casual outfit. Pair them with simple items — slip-on sandals, swimsuits, t-shirts, and a pair of heels — and you'll be covered for any occasion or setting, surf or turf.
To help get you out of your winter dressing mindset, below, find 13 outfits for inspiration on what to wear once you arrive to your tropical destination.
Sleek Backless Dress
While you may not have an oceanfront room, bring out a chic backless dress for any backdrop. For dressy dinners or events, consider a maxi in a bright hue, and all eyes will be on you.
Blazer Jacket + Bermuda Shorts
Continue sporting the summer-approved Bermuda short trend over your holiday vacation. Pair the bottoms with a blazer and opt for a swim top underneath, because why not?
Puff Sleeve Dress + Bucket Hat
A puff-sleeve dress is a style that's easy to dress up or down. The sleeve silhouette exploded this summer, and there's no sign of it slowing down anytime soon. Finish off the look with a bucket hat to protect your skin from the sun.
Matching Set
As Goh explained, a matching set is an easy, effortlessly cool ensemble to bring along. Wear the set together, or mix and match with different pieces in your suitcase.
Slip Dress
For nights out, consider a sleek slip dress. Swap out heels for flip flops and layer a swimsuit with the dress for a more laid-back approach.
Graphic Tee + Trousers
To easily take your look from day to night, a cool graphic tee and sleek pair of trousers is an ideal outfit formula. Finish off with statement heels and a versatile crossbody bag.
Printed Skirt
Put all the attention on a playful printed skirt by pairing it with a simple white tank or tee. Add contrasting accessories for a fun pop of color.
Silk Scarf
Instead of tying a scarf over your hair, try out a silk scarf as a top. It'll be especially appropriate during those scorching hot days where the less covered you are, the better.
Sporty Spandex
If you love a morning jog in on the beach, opt for a pair of spandex shorts. After you finish your workout, jump in the water in your shorts and enjoy the day in the sun.
A matching shirt and short set is an easy ensemble to throw on top of your bathing suit. Hit up any local coffee shops or juice bars on the boardwalk in your beachy look.
Printed Jumpsuit
For those days when you're not totally sure what to wear, a printed jumpsuit is your friend. It's an easy, yet stylish option that can be dressed up or down.
Bold Sandal
If you have a fun pair of sandals you want to show off, keep the rest of your attire simple by coupling them with a white tank and denim.
Cropped Sweater + High-Waisted Trousers
You may not think about wearing a fuzzy sweater to the beach, but it's a cozy option on those chilly days. Pair the top with a high-waisted trouser and finish off with a classic hoop earring.