Found: The Perfect Outfit To Break Out On A Snowy Day
Melodie Jeng/Getty Images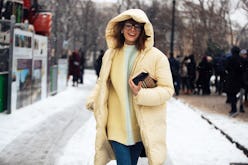 Cold weather offers you ample opportunity to wrap, layer, and enrobe yourself in all sorts of dreamy textures. As for snowy weather, that takes a bit more plotting to pull off. The same layered looks are an option, but you'll need to make sure what you're wearing can hold up to a little dusting. Luckily, practical and on-trend aren't mutually exclusive categories. What you wear in the snow can be as colorful and quirky as you desire — just as long as you know you won't slip on an icy sidewalk or ruin something delicate that can't handle a little precipitation.
Below, find a selection of highly fashionable winter outfits that happen to hold up to a seasonal flurry. There are the casual essentials: a down coat and snow boots that can survive a hike in fresh powder, but also a number of dressier ensembles to break out when you're not planning to spend too long strolling outdoors. Now, while you can't be blamed for using a little stormy weather as a reason to spend all day cozy on your couch, should you choose to step out — you'll be prepared.
Statement Coat
A snowy backdrop is the perfect opportunity to show off a bold statement coat. Leather or faux leather will repel any flakes, and the materials look oh-so-cool in trench form.
Grandpa Sweater + Sweats
When you're spending the day inside but need to pop out to the corner store for a quick snack refresh or a cup of coffee, this cozy combo is just the thing.
Winter White Outfit
It doesn't matter the material or cut you choose, all white looks instantly sophisticated. Try the look when you want to be cozy, but still need to impress.
Oversized Shearling Bomber + Leather Pants
An oversized coat with a shearling lining can rebuff any wind that comes your way. With the addition of leather pants, there's no way that icy gale will penetrate past your outer layers.
Fleecy Sportswear Ensemble
If you're in need of an outfit for running errands or hitting the gym on a slightly snowy day, a fleece outer layer is the way to go. Throw on leggings or jeans, and sneakers and you're good to go.
Sweater + Trench Coat
For a fun styling trick, use your chunky knit sweater as a scarf over your jacket. And if you get cold, you'll easily be able throw it under your outerwear as an extra layer.
Practical All-Black Outfit
For a sleek take on winter wear, stick to an entirely black ensemble comprised of weather-appropriate basics. Finish off with chic hiking boots that can survive a snow bank or two.
Poncho + Combat Boots
Swap a typical rain coat for a poncho style that will easily fit with an oversized sweater or sweatshirt layered underneath. Finish the look with leggings tucked into practical lug-sole combat boots.
Neutral Layered Look
An all-neutral look is especially sophisticated and is an easy way to pile on a myriad of layers without feeling like your look is too overwhelming. Finish the look with a wrap coat and blanket scarf and you'll be as cozy as you would be if you were still in bed.
Sweater Dress + Tights
A sweater dress is a great piece for keeping cozy at any dinners or dressier events you may have to brave during inclement weather. Add thermal tights to make sure your legs stay warm.
Teddy Bear Coat + Jeans
A fuzzy teddy-bear coat is an outerwear piece that's the perfect balance of cozy and trendy. Style with jeans and a pair of ankle boots for an easy combination that looks like it took a ton of effort.
Sweater Over Dress
If you want to wear a dress despite the temperatures, throw a sweater on top. Finish with tall boots or heat tech underneath to make sure you keep cozy.