Working Vacations Sound Terrible, But Are Actually The Most Genius Idea, Ever
Kite_rin/Shutterstock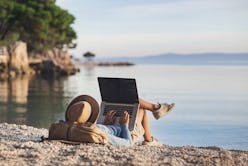 In the age of the internet, working remotely is more popular than ever before. With a laptop and Wi-Fi, telecommuters can set up (temporary) shop wherever they go, allowing employees to stay productive while enjoying the perks of travel. However, if the premise of a vacation is to take a break from work, this presents an oxymoron; so, what is a working vacation, and how do you do it right?
Sonia Anderson, emerging markets and technology lead for Airbnb for Work, says the first step is to establish some boundaries. "Unlimited access [to work] is a blessing and a curse," she admits. "It's healthy to set parameters around your working hours so you have time to enjoy the pleasure portion of your trip."
However, when it's time to take care of business, being in new surroundings can actually increase productivity. Plus, if you're a travel lover whose company can't offer more PTO, the ability to work remotely is a wonderful compromise. "With limited vacation time in the U.S., the flexibility to work remotely is key to my happiness," says Anderson. "I read that Gallup reports that workers who spent 60 to 80 percent of their time away from the office had the highest rates of engagement." After all, happy employees are efficient employees, right?
With all that said, you shouldn't make every vacation a working vacation because it's essential to completely unplug from your job every so often when it comes to preventing burnout. But if you're able to work remotely, you're looking to shake up your creativity, or you're sent out of town for work (and a little play), there are some key strategies to getting the business/leisure balance right.
Ahead, travel and career professionals weigh in on the do's and don'ts of mixing productivity with pleasure when your job takes you out of the office. From prioritizing your time to being mindful of your accommodations, working vacations can offer some serious perks when it's done right.
Designate "Working Times" & "Leisure Times"
"The biggest challenge with working vacations can be finding the motivation to work, especially if you're in a new place and you want to spend the majority of your time exploring," explains Belma McCaffrey, CEO and founder of Work Bigger, a resource for those looking to change their careers. "I find the following really helps:
Plan when you're going to work in advance. For example, if you're most productive in the morning, plan to get your biggest tasks out of the way so that they're not weighing on you.
Be present. Focus on work when you're working and when you're exploring and traveling, give yourself the space and time to enjoy the vacation portion."
While sitting in front of a monitor while the beach awaits may sound like torture, you may be surprised at how productive you can be if you stick to a schedule. And after all, when you're away from home, you don't have your usual daily distractions, from co-workers in your workspace to piles of dirty laundry at home. Further motivation is knowing that you'll be able to fully unwind after your tasks are done.
Alert Co-Workers & Clients Beforehand
Amy Brueckner, chief of staff at CIRE Travel, a concierge-style travel agency specializing in both business travel and luxury vacations and honeymoons, knows a thing or two about working on trips.
Before leaving town, a little forethought can help prevent you from obsessively checking your inbox before and after working hours. "Send an e-mail to key staffers/clients/partners the week before you go on vacation, letting them know that you'll be out/less reachable," she advises. "I know some folks who even set an out-of-office auto-reply for the entire week before so that anyone who sends them an e-mail gets the heads up that they'll be out of the office." Further, notifying everyone of the times of day when you will be checking your e-mails —say, first thing in the morning, and again in the late afternoon — can help manage expectations.
Come Up With A Plan For Urgent Situations
Of course, you'll probably want to be available for urgent situations without colleagues reaching out on every whim. For that, Brueckner has a solution. "Come up with a code word that you only give to one or two people at the office," she suggests. "If something needs your attention, have them send a email with the code word as the subject line in all caps. Then, tell your boss and others around the office that so-and-so knows how to get in touch. My code words are usually 'hello' or something similar but in the language of the country I'm visiting. I used 'BONJOUR' in France, 'KONICHIWA' in Japan, and 'VINO' in Italy!"
Another solution? Designate a co-worker to receive urgent inquiries on your behalf and fill them in on any big projects or clients you've been working with. With their permission, add their email address to your auto reply, and don't forget to give them your code word, just in case.
Choose Accommodations That Are Conducive To Working
When it comes to choosing a place to stay, it's of utmost importance to pick accommodations in which you can actually get work done. First, the basics: Brueckner points out that strong Wi-Fi is an absolute must. She adds that a place with a separate space away from fellow travelers will also help you focus on the tasks at hand.
McCaffrey points out that it's important to be in tune with what you need in order to be as productive as possible. "If I'm going to sit at a desk for three hours straight, it has to be in a well lit room because that energizes me," she says. "Be aware of what energizes you and what drains your energy so that you can plan for that in advance."
Last but not least, don't forget to seek an environment that inspires you." My favorite thing to do is to work outdoors," says Anderson. "I love finding places with outdoor working space, whether that be a poolside patio, a deck nestled in the woods, or a balcony with a beach view." And, depending on what you do, a scenic backdrop may have other benefits, too. "I use video conferencing to get in face time, and my customers are always pleasantly surprised when I connect from a beautiful home instead of a boring cubicle," she says.