I Tried Glossier's New Perfecting Skin Tint And Stretch Concealer — EXCLUSIVE
Glossier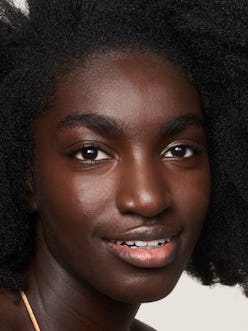 I'll own up to my bias. Glossier has a very special place in my heart — and on my vanity — for a number of reasons. First, that #aesthetic. Give me anything millennial pink and bubble wrapped, and you've got my heart. But as someone who's prone to spend most of her free time masking rather than putting on makeup, the brand's "Skin First, Makeup Second" ethos is one that I dearly appreciate. The brand's Perfecting Skin Tint and Stretch Concealer, sadly, are two products that I didn't really get a chance to know and love. Both, previously available in just five shades, were way too light for me (I tried Rich). And personally, I don't have the patience to mix, match, and combine different formulas. But now that Glossier expanded the shade ranges for both products, I can proudly wear a full face of the line, from the time I moisturize to my final step of my makeup routine, which is always highlighter.
Skin Tint and Stretch Concealer were only available in five shades, respectively: Light, Medium, Dark, Deep, and Rich. Now, both products come in 12 shades, from G1 to G12... with G1 being the darkest. 12 may not seem impressive compared to, say, 40, but don't be dismayed. Makeup artist Fatimot Isadare and Kym Davis, Glossier's Head of Product Development, worked to make sure that the hues looked good on a variety of customers.
G4.
"As a makeup artist, I'm really familiar with working with a wide range of complexions and undertones," Isadare tells The Zoe Report exclusively. "What's unique about these products, because of the super sheer payoff, is that they're designed to cater to depth while still stretching across multiple undertones."
Indeed, another point of concern regarding the old formula (and one of my personal ones) was the texture of the formula. Now, again, I'm all for putting skin first. However, there are some days where I crave full coverage, like, for example, when I tested both products. I had just gotten off of a plane only hours ago, where my hour and a half flight was extended to almost six thanks to bad weather. Glossier doesn't try to shortchange its customers into thinking that this is some sort of heavy foundation. There are other brands for that. The point of differentiation here is that these products are almost like the final step of a skincare routine, Isadare says. Prep your skin however you like (she recommends a serum, moisturizer, and sunscreen), and you're ready to apply.
G11.
"I think using your hands is a great way to apply the product to the skin," she suggests. "If it starts to get streaky, try doing some final touches with a sponge."
Same rule applies for the concealer, which is surprisingly super malleable unlike other potted formulas. Isadare's favorite way to apply is with her ring or middle finger, she notes, as it applies the perfect amount of pressure. The heat from your fingertips warms up the product to make for seamless blending. If you prefer to set your work with powder (the brand has a great one), that's fine, too. "Focus on the center of the face so you don't lose the glow factor on the highest points," Isadare instructs.
With her tips in mind, I applied both products after using a bit of primer. Keep in mind, my skin was a wreck from my cabin air overexposure. (Meaning: Do not judge my "before."). But once I applied the Skin Tint in G1, my skin felt so hydrated... especially since the formula has glycerin and diamond powder. Matte foundations tend to dry me out, and this went on like a tinted face oil.
The Concealer is probably my favorite out of the two. I used G1 to cover my dark spots and acne scars, then used G2 for my dark under-eye circles. Even when I got liberal with the layering, the product didn't cake or pile. I did notice a bit of creasing towards day's end, but I didn't mind — these products are made to make your skin *actually* look like skin, so I didn't mind the imperfections. Overall, I can surely see myself adding these two items in my everyday rotation. The Tint is sheer, but surprisingly helped my oil-prone complexion appear somewhat matte... and the concealer helped me look like I got six hours of sleep, instead of three. After all, real results are what the Glossier team values, and they've got the brand loyalty — and this brand loyalist — to prove it.
"As a woman of color, I find it encouraging when a brand cares about bringing diverse perspectives into the product development process," Isadare says. "During my work on the project, I saw a lot of real life testing being done with a diverse range of of customers, community members, employees, and makeup artists like myself. To me, that signals that they don't just want people to feel included. They're actually doing the work to include them."
Shop Perfecting Skin Tint and Stretch Concealer, ahead.