Glossier's Cult-Favorite Makeup Products Just Got A HUGE Update — EXCLUSIVE
Glossier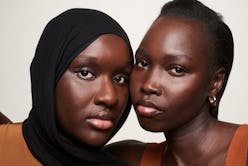 Whenever a brand announces a shade expansion, the skeptic in me perks up. Fenty Beauty undoubtedly set the precedent for the conversation surrounding inclusion in the industry, and there are plenty of brands who followed suit — often, just for the sake of dollar signs. Glossier is not one of those brands. Since its inception in 2014, the brand has always made it a point to use models with a wide range of skin tones and body types in ads and e-comm imagery. So when it came time to expand Glossier Perfecting Skin Tint and Stretch Concealer options, along with launching a new Shade Finder, those same rules applied.
"We decided to revisit our complexion products more than a year and a half ago in response to customer feedback around the obvious gaps in our existing shade range," Kym Davis, Glossier's Head of Product Development, tells The Zoe Report exclusively. "By working with our customers, makeup artists, and other members of our community, a much more balanced and comprehensive shade range was achieved — one that suits the unique formulation of our products."
Before, the Skin Tint and Stretch Concealer were only available in five shades: Light, Medium, Dark, Deep, and Rich. And as someone who's a fan of basically anything that Glossier creates (I have a whole Boy Brow love letter to prove it), the complexion products were the only items that I couldn't make use of. The Rich shades of both products were far too fair on my dark brown skin, a plight that I apparently have in common with plenty of other brand fans.
"We're always in conversation with our customers, and many of them had shared that they were mixing shades of Perfecting Skin Tint or Stretch Concealer to create their own custom colors," Davis continues. "That insight was a great starting point for us when it came to identifying gaps and developing new shades." Now, both products are available in 12 expansive shades on both spectrums, dreamed up in part by Davis, makeup artist Fatimot Isadare, and, well... you.
"They're designed to cater to depth while still stretching across multiple undertones," Isadare explains. The Stretch Concealer (made of avocado oil, jojoba oil, and cocoa butter) is formulated with micro waxes that create a super elastic consistency, according to Davis, so the formula moves with you and never stiffens or cakes. Skin Tint has a similar concept: The combination of glycerin and diamond powder helps to hydrate and brighten, giving off that signature Glossier glow that you see in all of the ads. No highlighter needed. (Unless you want to swipe on a bit of Haloscope, which is always a good idea.)
If you can't make it to the New York City flagship or the store in Los Angeles to do a swatch test, don't fret: the Shade Finder is supremely helpful in the fact that each shade is shown on multiple models with various skin textures and undertones, so you can see how versatile the products are. "Our customers are our North Star at Glossier, and we're always striving to create great products and experiences that will stand the test of time. [With the Shade Finder,] customers are able to see the versatility and finish of the product in action, and hopefully find themselves in the content so the selection process is easy, accurate, and personal."
Another unique aspect of the new and improved complexion range is the way it's labeled. Each shade begins with "G," for Glossier, and the numbers represent the shade depth. But instead of starting off the range with the lightest shade, the first option is the darkest — a subtle nod to the shifting perspective that includes all consumers.
"As the conversation continues to evolve and expand, brands will have to think even more critically about how they are serving their customers across all aspects of their business," Davis muses. "Inclusivity is now a core part of the dialogue in the beauty industry — it's here to stay."
Shop the new Glossier launches below.