What Exactly Does An Online Stylist Do?
Courtesy of Net-a-Porter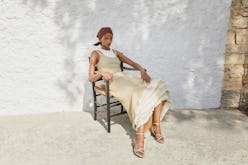 Thanks to social media, a lot of the fashion industry's most mysterious jobs have become, well, a lot less mysterious. From fashion editors, to buyers, and designers, there's no longer a need to imagine what actually goes on behind the scenes based off of what you remember from The Devil Wears Prada, or The Hills. Now, it's all on Instagram stories. And while that type of transparency has shined light on many corners of the industry, there's still a laundry list of functions that remain mystifying, even to an insider. On the top of that list? Figuring out exactly what online fashion stylists do and what the job entails.
Personal styling is a service vaguely familiar to anyone who frequents a department store here and there. But online, what do they actually do? How do they get a feel for their customers and keep track of what will be trending this summer before everyone else? Ahead, executives from some of the buzziest, trend-setting retailers set the record straight on the exclusive service, explaining the important role stylists play, especially when it comes to servicing top customers.
London-based e-commerce giant Net-a-Porter is known for its ahead-of-the-curve market variety and stunning editorials, but the site's most loyal clientele, who it refer to as EIPs — or Extremely Important People — know it for its above and beyond private services, too.
"For us, it is all about building a lasting and meaningful relationship with the client and anticipating her needs before she even tells us," Lupe Puerta, Global Director of Client Relations for Net-a-Porter, tells TZR. To do that, personal shoppers are in-turn completely mobile, willing and ready to travel to clients for private at-home consultations, one-on-one styling appointments, or even to just make an important rush delivery.
Should you find yourself hitting EIP status, you can also expect your personal shopper to keep you up-to-date on the latest styles the site has to offer, offer wardrobe consultations, style you for events, and facilitate orders straight from the runway. The latter is just one of many very cool and exclusive perks for EIPs, which also include invitations to special Net-a-Porter events throughout the year, from fashion week shows to designer dinners and showroom visits. (While it isn't clear just how much money one has to spend to become an EIP, it's safe to say it isn't an insignificant amount.)
"We are very mindful about what qualifies a candidate to be part of the team, and we look for people who can easily relate to our clients," says Puerta. "Building trust with the customer is the most important aspect of the role. We are continuously bringing on personal shoppers who love the challenge of finding the right piece for each of their customers, and who encourage open conversation, and ultimately, wholly understand each client's lifestyle."
Personal shopping might seem like a fringe benefit; a nice way to treat loyal customers and nothing more. Puerta makes it clear that that sentiment couldn't be further from the truth. "The personal shopping team is a crucial component in our business growth. As an e-commerce retailer, we strive to provide the ultimate in convenience for our customers, which is why we are always adding service enhancements, and are in the process of expanding the personal shopping program throughout additional major cities across the US."
The same prioritization rings true at international online retailer Mytheresa, where Chief Customer Experience Officer Isabel May understands the value of personal shopping — and the brand's clientele, also known as VICs, or Very Important Clients.
"Our VICs are a significant part of our turnover and our aim is to give them the best digital luxury experience," says May. "Our clients are business women, have children, are time poor, and have very high expectations in terms of service and speed. The personal shopping team caters to the expectations of our client, brings added value, and simply makes shopping easier for her."
For Mytheresa, simplifying shopping for VICs translates to personalized edits, upon-request home visits for wardrobe consultations and detoxes, access to pieces before they're even online, orders placed for clients directly from the showrooms, and invitations to luxe events.
"As every client is unique, we have a very tailored approach to deliver an intimate experience," May adds. "It is all about creating a personal relationship with the customers and anticipating all her needs as she has a very busy schedule."
For retail veteran Nordstrom, the approach to personal styling is a bit different. For starters, it's available in-store and online — and notably, it's free, available to anyone regardless of how much or how often they spend.
"Stylists are just one part of the suite of styling services that Nordstrom offers its customers," says Shea Jensen, Senior Vice President of Customer Experience. "We view styling as one way to provide customers with personalized help, whether in-store or online." The service surely isn't as exclusive as other retailer's programs, but that doesn't mean the benefits aren't similar in practice. As just one service in the brand's styling suite — alongside wedding, beauty, tailoring and gift scouts — personal styling customers can expect to speak with a stylist via phone or email to talk dislikes and specific needs ahead of an official appointment, which lasts for a minimum of 30-minutes. For in-store appointments, the same stylist will pull options and set them up in a dressing room prepped especially for the customer ahead of their arrival.
For a more indulgent experience, the retailer launched Nordstrom To You, a program offering in-home styling for $50 and full closet audits for $400, where a stylist suggests items to keep, discard, alter and more.
Regardless of the approach or retailer, Mytheresa's Isabel May says that the most important part of personal shopping is being responsive to clients and their wishes — even before they know what those wishes are. Ahead, shop summer-ready recommendations straight from the experts and their respective teams. You can consider it your personal shopping free trial.
Sporty Sandal
Puerta isn't one to shy away from the tourist-influenced trend, citing favorite options from high-street designers like Dries van Noten and Christopher Kane. No matter the pair or how much you pay for it, she stands by the notion that they can easily "take you from the office to dinner."
All Beige Everything
As the reign of Stick of Butter (a term coined by Man Repeller's Harling Ross) dressing lives on, brands — and stylists — are making it easier to work into summer months. "The all-beige look is definitely one to look out for," says May. "It is classic, modern, and looks great on everyone."
Elevated Shell Jewelry
"Shell jewelry made a big comeback this season, but in a much more elevated way," notes Puerta. "Wald Berlin and Tohum are leading the way in this trend with gold-plated and shell jewelry pieces that instantly brighten up a classic outfit."
Dramatic Heels
Consider this: If your summer heel could also double as a piece of art, it's dramatic. "We love Amina Muaddi's shoes," says May of Mytheresa. "Her collection is already a hit with influencers and celebrities alike." What really stands out to her and the team? Embellishments, flared heels and slingback styles.
All-Out Resort
The season you've been waiting for is here — so why not dress like it? May notes influences of resort have been hard to miss, "from Saint Laurent's introduction of swimsuits walking down the runway, to the palm trees in full view and water filling the catwalks."