Meet The Sleek New Warby Parker Sunglasses You're About To See Everywhere
Courtesy of Warby Parker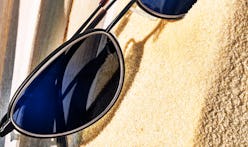 Look, no one needs to tell you that where Warby Parker goes, shoppers will follow. Yet, years after the affordable direct-to-consumer brand disrupted the industry, Warby Parker's new Trace Edition glasses collection demonstrates it still knows how to pack a punch. Available on Warby Parker's website July 9, the modern frames are crafted from lightweight stainless steel and showcase why the internet fell for the brand — there are so many sleek, sophisticated designs, and the entire collection starts out at just $145 a pop.
Case in point: Warby Parker's new Estelle sunglasses. Immediately, you'll see the '90s influence that's permeated the industry; the smaller, teardrop-shaped frames breathe the throwback aesthetic. That said, Warby Parker did put its own spin on the popular style — layering in a barely-there pop of nylon wire on the interior rims of each Trace Edition frame. A first for the brand, it's a small, easy-to-miss detail with a surprisingly major impact. (Just take a look at how it affects both Estelle color schemes, "Ash with Riesling" and "Seashell with Brushed Ink.")
It achieves an effect even minimalists will love, too. The nylon takes up a tiny space between the frame and the lens, making the lenses appear as if they're floating in thin air. It especially works on the collection's dark "Brushed Ink" frames, such as the Estelle — which yes, will undoubtedly be everywhere this summer — or the oversized Claudette sunglasses.
And you can still try out Warby Parker's latest nylon-laced style, even if you're just looking for a pair of everyday frames; the collection features a number of clear, prescription-ready lenses alongside its chic sunglasses. The eyeglasses' nylon wire inserts are even more eye catching, as well: The collection's angular Larsen eyeglasses are rimmed with "Antique Blue" and "Sienna Pink". So, while they may not look as floaty as the sunglasses rimmed in paler shades, you can color coordinate your glasses to your eyes. (Who knows, the blue-rimmed glasses may even subtly feign the wide-awake look of blue mascara.)
To try on the new frames for yourself, stop into select Warby Parker in-store locations or visit the brand's website. Below, seven Trace Edition frames to shop for summer.