Benefit's Cult-Favorite Mascara Has A Summer-Ready New Color & You're Going To Be Obsessed
Benefit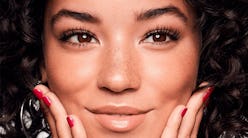 Before 2019's colorful eyeliner trend was a twinkle in anyone's eye, beauty fans were relying on the rainbow for a whole other reason. You may've grown up using the makeup hack, too: Applying blue mascara to your lashes was the undisputed trick to feigning a full night's sleep. And while colorful liner may be having a moment, Benefit has decided to let mascara in on the fun — and is reintroducing blue lashes to the world. Available at the beginning of June, the new Benefit BADgal BANG! Brightening Blue Volumizing Mascara is a mix of modern and classic; the color is trendy, the trick is a staple, and — above all — the mascara itself has a cult-status formula that promises to deliver.
Because this isn't the first shade of Benefit BADgal BANG! mascara. The originally black volumizing formula instantly took off in the beauty community, and has garnered over 2,500 reviews on Ulta's website and 4,000 on Sephora. The new blue shade is infused with the same provitamin B5, features the signature Slimpact! brush, and retails for $25, too (the same price as the black shade).
The specific color of blue Benefit went with puts a 2019 spin on the age-old hack, as well. It's not the electrifyingly bright blue of yore; although it'll still help your eyes sparkle and shine, an online swatch of the blue BADgal BANG! mascara reveals it appears to be more deep denim than pale neon.
The darker blue also seems like a match for the $20 blue BADgal BANG! 24 Hour Eye Pencil — which, by the way, is the all-new liner the brand also just put out. However, the matching blue is just one of the four matte shades the BADgal BANG! 24 Hour Eye Pencil has to offer. You can also get Benefit's new eye pencil in a deep, muted purple, as well as the more traditional brown and black.
Whether you go with a bold color or something classic, the goal of the new liner is to create your perfect smoky eye; the pencil features the eyeliner on one side and a built-in smudging tool on the other. Nevertheless, the formula claims it's waterproof and won't transfer, so it should only smudge when you actually want it to.
Snag the new BadGAL BANG! additions at Ulta or on BenefitCosmetics.com.