Get Ready To Watch Viola Davis Play Michelle Obama In A New Series About First Ladies
Christopher Polk/Getty Images Entertainment/Getty Images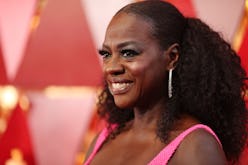 If you've ever wished they'd make a show about the elegant powerhouse that is Michelle Obama, then Viola Davis is about to make your dreams come true. The new series she's executive producing called First Ladies is going to offer a glimpse into the lives of history's most beloved White House dames. Eleanor Roosevelt, Betty Ford, and Michelle Obama (played by Davis, herself) included.
Deadline announced on Mon. that the new drama will soon be coming to Showtime, which has committed to three one-hour episodes, each focusing on a different former first lady. The series will be written by novelist Aaron Cooley and produced by Davis and the production company she co-owns with her husband, Julius Tennon, Juvee Productions.
The East Wing of the White House, which was added in 1942 as somewhat of a first lady headquarters, will set the stage for the upcoming series. There's no word yet on when the first episode will air, but if Michelle Obama is the main character, we are so there.
There's no better person to play her than Davis, who is famously friendly with the icon. Earlier in the year, the How to Get Away with Murder actor even posted a couple photos for Obama's birthday. They featured the two of them and Octavia Spencer smiling and raising the roof (isn't she just the absolute coolest?).
"Happy birthday to the Queen! My sis! My image of grace, beauty and intelligence!! All hail!!" Davis wrote in the caption.
According to Deadline, the upcoming TV drama will "peel back the curtain on the personal and political lives of our most enigmatic heroes."
You already know that Obama recently published an eye-opening memoir called Becoming about her experience in the White House. Now, the people are more intrigued than ever about what goes on behind those famous walls. Thanks to First Ladies, you're about to find out (while probably also getting a much-needed dose of Michelle Obama's hugs and inspirational quotes).
The two additional episodes will reportedly feature fellow legendary first women Eleanor Roosevelt, the longest serving first lady in history, and Betty Ford, who is known for being one of the most politically active presidential spouses of her time. Who will play the late leaders has yet to be revealed.