Michelle Obama Just Dropped A Clothing Line & It's So Good
AGF s.r.l./Shutterstock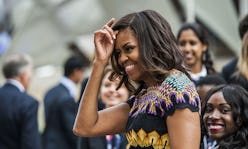 If you're reading Michelle Obama's new memoir and loving it — which, how could you not? — then get ready to obsess over the accompanying line of merch. That's right, you can now wear your favorite First Lady quotes on your sleeve with Michelle Obama's Becoming clothing line. And to no one's surprise, the proceeds will be donated to charity, so go ahead and fill up that cart up without reserve.
Thanks to her brand-new Becoming franchise, you can now give the gift of Michelle Obama's most inspiring quotes this holiday season. The former first lady is currently on tour for the book she launched on Nov. 13, a powerful tell-all chronicling her childhood in Chicago, life in the White House, marriage, motherhood, and more. To say the book is making waves would be a severe understatement; it became an instant top seller on Amazon the very day it was released.
Already, Becoming has acquired a cult following that's growing by the minute (including Oprah Winfrey, who didn't waste any time adding it to her famous Book Club list), so it only makes sense that there would be a corresponding line of merchandise for the unofficial fan club, too. The online store includes everything from t-shirts to tote bags, to bookmarks, and beyond.
The candle that reads "Find your flame and keep it lit," for instance, could be the most motivational decoration on your mantle. You could even sip your morning coffee from a mug that says, "Excellent from the start." Of course, the new line wouldn't be complete without the most iconic quote, which came from the former first lady's 2016 Democratic Convention speech. The famous "When they go low, we go high" motto is, indeed, printed on a cozy heather gray t-shirt that would look just perfect under your favorite blazer (read: the ultimate power look).
There are 21 items for sale on the website, ranging in price from $10 for a pack of pencils (which actually grow into trees if planted) to $65 for a hooded sweatshirt. And what better to buy an Obama fan for the holidays?
This motivational merch (all made in America, by the way) is the gift that gives back, too. Proceeds from the line go to the Global Girls Alliance, a program that the former First Lady launched in Oct. under the Obama Foundation that helps empower adolescent girls through education.
Ahead, The Zoe Report's favorite pieces from Obama's new clothing line.
Shop The Collection