The Moisturizer Victoria Beckham Swears By Is On Sale For $15 At Dermstore
Pascal Le Segretain/Getty Images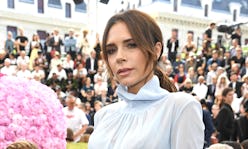 The start of a new season always calls for tweaks in your skincare routine. Fortunately, Dermstore is having a huge site-wide sale and it includes one of Victoria Beckham's favorite moisturizers. It's the beauty secret that celebrities rave about: Weleda's Skin Food.
Beckham isn't afraid to admit that she's a fan of high-end beauty products, but she makes an exception for the natural, holistic wellness brand Weleda. The former Spice Girl swears by the brand's cult-classic moisturizer, Skin Food. "The formula is so thick and buttery," Beckham told Into The Gloss last year. Beckham said she uses the hydrating formula on her entire body and it makes her skin look like it's "had a good drink."
Unlike most (if not all) other products that grace the shelves of this fashion designer's medicine cabinet, this little gem is under $20. Better yet, it's on sale at Dermstore right now for only $15.20. That's a small price to pay for potentially the most hydrated skin of your life.
Despite its low price point, celebrities are obsessed with this ultra-hydrating formula. Even Julia Roberts admits she gets carried away, telling InStyle that she likes to use it as a hand cream after washing dishes, then ends up slathering up her elbows and feet, too. "Before you know it, I've squeezed this poor little green tube into a twist," she said. Even Rhianna has been known to request a tube at the nail salon and Adele credits the product for her perpetually glossy complexion.
Weleda Skin Food isn't just one thing — it's everything. Packaged in a little green toothpaste-like container, the cream can be used for nearly every beauty need: makeup primer, foot cream, lip balm, highlighter, cuticle cream, face mask, dry skin treatment, eye cream, hair serum — you name it, this chameleon cream can most likely be it.
Beckham told Into The Gloss that she mixes it with coconut oil and uses the concoction to lock in her tan. "I suppose some people may not like the greasiness," she said, "but it helps me hold on to the color." By the time she's ready to step out of the house — in some impeccably curated outfit, no less — the salve has fully sunken in.
Although it's not actually food, Skin Food's iconic green bottle can often be found in health foods stores. It's infused with essential fatty acids like vitamin E, which moisturizes and softens skin, and organic pansy, which soothes irritated dry patches. Organic calendula flower extract helps repair and restore, while rosemary leaf extract corrects dull and tired skin. Bonus: A combination of chamomile, viola tricolor extract, and beeswax will keep your skin moisturized and glowing all day long, so it's no wonder why this plant-rich, biodynamic product has garnered a cult-like following.
If you crave healthy skin like Beckham's, it's definitely worth scooping up this miracle product while it's on sale at Dermstore (and while you're at it, get 20 percent off almost anything else). Pro tip: If you plan to use it on your face, test a small patch on your arm so you can gauge how your complexion will react.
Shop Now