Victoria Beckham Makes A Convincing Case For Black Leather Pants
Beretta/Sims/Shutterstock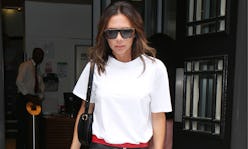 If there's one thing every fashion obsessive can agree upon, it's that the industry's favorite pop star turned fashion designer is a major authority when it comes to on-the-go street style. The latest evidence? While in London this week, Victoria Beckham wore the perfect white t-shirt and leather pants — an outfit that is about to inspire your entire fall wardrobe.
Beckham has a knack for elevating casual items like cotton t-shirts and jeans with chic wardrobe staples (think: her iconic, pointed-toe pumps). This time around, the designer opted for a stylish, modern take on a retro classic — leather pants with a bright-red waistband. And in an effort to make the pants look both casual and elevated, Beckham paired her leather with a crisp, box-cut t-shirt for the ultimate balance of glamour and simplicity. The look, of course, was topped off with black-leather heels, a black shoulder bag, and her signature oversized sunglasses.
This isn't the first time Beckham has been seen in the zip-up leather pants in question (and they happen to be a part of her Resort 2018 collection). Last year, the designer relied on the red-accented pants for both the British Vogue party and her husband David Beckham's Kent & Curwen presentation in London.
It goes without saying that Beckham considers her look a classic (she has worn them three times after all). That said, there's multiple ways you too can replicate her tried-and-true formula — even if you don't have access to an unlimited supply of designer items. Think of Beckham's easy combo as the basic structure of any multitude of outfits, whether you're headed to work (just throw on an oversized, plaid blazer), brunch (grab a pair of hoop earrings and a beaded clutch), or a casual day of errand running (think: denim jacket and chunky sneakers).
Regardless of where you're off to, this Posh-Spice-inspired look is ideal for all types of fall dressing. Ahead, shop The Zoe Report's favorite leather pants and white t-shirts to scoop up immediately — including Beckham's exact pieces.
Shop The Look