Victoria Beckham Found A Polished Way To Elevate Your Work Wardrobe
Kristin Callahan/Ace/Shutterstock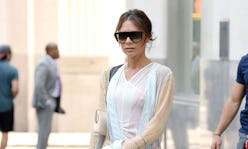 Neutrals often become a common (and highly overdone) theme when it comes to winter workwear. Odds are your closet is filled with tan coats, black sweaters, and gray trousers, but those pieces aren't the only weather-appropriate professional staples for the season. Victoria Beckham's red pants illustrate how wearable bold colors can be, even for a long day at the office.
Beckham is pretty much the queen of styling her many tailored pieces with an edge. One can only imagine the closets full of wide-leg trousers, shapely blazers, and pointed pumps that she has accumulated over time. Most recently, the fashion icon was photographed in New York on Weds. wearing two pieces from one of her yet-to-be-released collections. The look combined a pair of high-waisted trousers in fire engine red, paired with a 1970s-inspired striped turtleneck. She carried a red suede bag, also from her own label, under her arm and completed the ensemble with a pair of black pointed heels. In classic Beckham fashion, she sported oversized square sunglasses to shield her eyes from the paparazzi.
This look may be chock-full of bright colors and bold accents, but it's still appropriate for any professional setting on a winter day. As demonstrated by Beckham, dressing for a cold day at work doesn't have to exclude your favorite vibrant tones.
Everyday is a work day when you're an international fashion powerhouse, but this look is still doable if you spend your days in a more traditional office setting. You'll thank yourself later for investing in pieces like a quality pair of wide-leg trousers, a form-fitting sweater, and a structured jacket.
Creating a work clothing capsule, so to speak, makes it a whole lot easier to get dressed in the morning. While all of these pieces function together to create one cohesive look, they are just as stylish when paired with pieces you already have. Try your colored pants with a silky top and a blazer, or pair your striped sweater with a leather skirt and knee-high boots.
Unfortunately, Beckham's exact look isn't in stock quite yet, but you can get a head start on your next outfit purchase by pre-ordering her pieces below. If you're looking for instant gratification, The Zoe Report has compiled a list of other Beckham-inspired work pieces that prove just how polished bright colors can be.
Shop The Look