The Winter Capsule Wardrobe That Makes Getting Dressed A No-Brainer
IMAXtree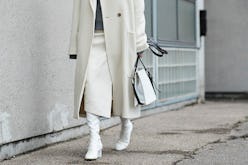 I often joke with my friends that my style identity is Switzerland: comfortably luxe, always cozy, and full of neutrals. I can never have too many thick-knit turtlenecks, wide-leg trousers, boxy blazers, or off-white boots — and I usually collect them all as quickly as they can materialize online. But this season, I took a pledge to shop less; instead of buying six versions of the same thing, I built a winter capsule wardrobe to mix and match and create new outfits. My closet's already bursting at the seams, and with the bulk that comes with warm, chunky sweaters and hefty outerwear comes the needs for a lot of closet space. It's getting to be, well, a bit too cumbersome.
The beauty of a capsule wardrobe isn't just that it cuts down on actual stuff, but also that it's perfect for someone who gravitates toward tailored pieces in neutral colors. (Sorry, eclectics.) In fact, I took a page out of former Céline designer Phoebe Philo's book when creating my capsule wardrobe: It's her ethos — that everything you buy should, in theory, look good together but also stand on its own — that's most influential to my shopping style, especially in the winter. (Her other sartorial ideologies — that your clothes should be at once sharp but also secondary, and that you can make do with a dozen pieces in a single season — are nothing if not enviable.) Even better: a capsule wardrobe means that you're never left with any single item that feels wholly practical yet uninspiring.
I'm reinterpreting The Book of Philo for my own closet — and hoping to get ready in the morning that much faster because of it. Here's every piece that I'll be mixing and matching all winter long.
Winter Capsule Wardrobe: The White T-Shirt
Winter Capsule Wardrobe: The Turtleneck
Winter Capsule Wardrobe: The Cardigan
Winter Capsule Wardrobe: The Chunky Sweater
Winter Capsule Wardrobe: The Blazer
Winter Capsule Wardrobe: The Black Leather Pants
Winter Capsule Wardrobe: The White Jeans
Winter Capsule Wardrobe: The Wide-Leg Pants
Winter Capsule Wardrobe: The Polished Boots
Winter Capsule Wardrobe: The Lug-Sole Boots
Winter Capsule Wardrobe: The Wear-Anywhere Bag
Winter Capsule Wardrobe: The Oversized Coat
Winter Capsule Wardrobe: The Puffer Coat
This article was originally published on