How To Style A Makeshift Jumpsuit The Victoria Beckham Way
Andreas Rentz/Getty Images Entertainment/Getty Images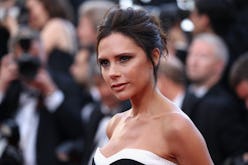 You already know that Victoria Beckham is a fashion guru, but what you might not realize is that the former Spice Girl is an illusionist, too. The British singer-turned-designer sported her own label on Tues., as she often does, but the one-piece she wore wasn't actually a one-piece at all. If you're one who can't stand wearing jumpsuits, then allow Victoria Beckham's green top and pants to teach you how to fake the trend.
On Sat., the mom of four announced that she has a YouTube channel in the works that will feature beauty and styling tips, and the illusory ensemble she wore out in New York City on Tues. proves that you should, indeed, tune in. Beckham's faux jumpsuit was deceptive in the best way.
By no surprise, the 44-year-old was wearing her own designs. She tucked a wool-canvas button-up blouse into a pair of cropped and pleated high-waisted trousers — all in a monochromatic military-green hue. Sure, matching separates aren't exactly innovative, but the way she paired them together was. The collared top comes with a silver button-embellished belt to bring in the waist, but Beckham tucked the top into her pants and concealed the seam with the belt instead, making the two pieces look like one.
Shop The Look
Whether you're seeing matching separates or a jumpsuit, either look is on trend. Monochromatic sets became all the rage after Spring 2017 fashion shows, where Ted Baker, Alexander McQueen, and Versace all incorporated matching separates into their runway looks. Alternatively, jumpsuits — utility-style suits, specifically — have been having a moment of their own. Shanina Shaik, for instance, wore a workwear-inspired denim one-piece just a few weeks ago.
But finding a jumpsuit or romper that hits in all the right places is no easy feat, historically. Often times, you might find that the waist hits at the hip, or worse, the torso is too short, leaving you with an embarrassing problem below. And then there's the annoying mission of crawling in and out of it several times a day — no thanks. Beckham's faux jumpsuit look is the best of both worlds, ultimately allowing you to rock the trend without the trouble.
You, too, can fake the look with Victoria Beckham-inspired matching separates. The Zoe Report has curated a few outfits for you to experiment with, ahead.
Get The Makeshift Jumpsuit Look