Vanessa Hudgens Dropped A Dreamy Activewear Collab (& It Includes The Perfect High-Waisted Leggings)
Courtesy Of Avia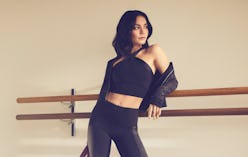 The key to a good workout is feeling confident from the moment you step into the gym. That's what motivates self-proclaimed fitness fanatic Vanessa Hudgens, who just collaborated with Avia to create a line of activewear so cute it'll actually make you excited for your next cardio session. The actor's brand-new collection includes all the pieces you need to sweat in style.
The Vanessa Hudgens Collection at Avia dropped on Fri. and let's just say you'll be eager to hit the gym when you see it. Track pants, mesh tanks, and the high-rise leggings you've been looking for are all included in these 40 core pieces. The collection meshes performance with fashion, and that's exactly what Hudgens was going for.
"I wanted to do a collection that I can work out in [and] feel supported and strong, but for it to also be cute and stylish to go about my day in," she tells The Zoe Report. "Everything is functional, really great performance pieces as well as leisurely pieces. Everything you need in order to get your fitness goals done."
Basically, this is the kind of activewear that you can take from a boxing class to brunch and nobody would even bat an eye.
The stylish celebrity-designed athleisure collection is pretty left-field for Avia, a brand that's known mostly for its sneakers. But though unexpected, this new line is certainly putting Avia on the map for pretty activewear.
Hudgens' collection is super affordable, too, ranging from $38 to $74. Pieces include breathable fishnet tops, wide-leg lounge pants (which Hudgens says is her favorite), floral-print and mesh-panel bottoms, crop tops, post-workout fleeces, and more. All the pants are designed to give you a super-supportive, tailored fit.
"I hate when I try on a pair of leggings and they bunch in the front or in the back, or the waistband is too tight and cuts into my side," she says. "I wanted it to be the perfect, supportive, high-waisted fit, so that's what we did with the collection."
The actor says she loves a bit of mesh on her athletic gear, so there's no shortage of netting. She's added flowery prints, bold color, and unconventional cuts to your everyday athleticwear to keep it trend-forward, too.
So, there you have it: a whole new gym wardrobe just in time for spring. A few of The Zoe Report's favorite pieces, ahead.
Shop The Look