How To Wear Workout Clothes All Day, According To Victoria Beckham
Beretta/Sims/REX/Shutterstock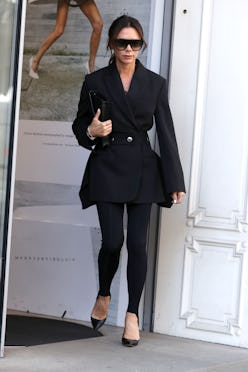 When Victoria Beckham designed her activewear collaboration with Reebok, she had her own needs in mind. The mix of sportswear and streetwear is right in line with the designer's sleek signature style (and her active lifestyle). And, her easy-to-transition pieces struck a chord with shoppers too, as many pieces from the collection sold out within 24 hours of the line's debut. But, what about those times when a workout wraps, and you want to look presentable? How do you wear workout clothes all day? Beckham was posed with the question during a walk-through and Q&A session in New York. Her response is surprisingly simple, requiring just three key pieces.
She explains, "after a workout, the hair can look questionable. So, it's all about a baseball cap, a good pair of sunglasses, maybe throw an oversized men's tailored coat over the top of your workout clothes." Adding, "And, there you go — you can make yourself look very chic." Besides sharing her go-to post-gym ensemble, Beckham went on to talk about the process of working with Reebok, noting her excitement about the company's nostalgia, and adding that in her own life she's "very specific about working clothing," and so an attention to detail was crucial through her own design process.
Walking a group of editors through the collection, Beckham touched on her design vision, mentioning that black and sunset orange were favorite hues for athleisure, and though a contrasting oatmeal cookie color was an unusual choice, she wanted to create a surprising way to play off the other core colors of her collection. Design-wise, Beckham's namesake line, along with it's offshoot Victoria, Victoria Beckham are focused more heavily on polished, tailored pieces, Beckham notes that her children's' interest in the sportswear world has inspired her. She also adds that her children's interest has a been informative — explaining (with a chuckle) that she now knows exactly what a "Supreme drop" entails.
As for Beckham's own line, she will continue to develop the collaboration through at least two more seasons, finding fresh ways to hit the sweet spot that is sophisticated athleisure. Beckham notes that the approach will continue to be honest, "I go into a new category when I want that thing in my life," she says. SO, as her commitment to a healthy lifestyle likely won't be wavering anytime soon, you can also assume that her collection isn't going anywhere. She may choose to dress it up — with that signature coat and sunglasses — but the leggings and sneakers are here to stay.
Below, shop Beckham's recipe for dressing post-workout.
A cool baseball cap is ideal for covering up sweaty, mussed-up hair post spin or yoga.
Throw on a cozy pullover as you leave workout class.
Makeup or not, these sunglasses will keep you feeling protected and chic post gym-session.
Beckham's sleek leggings look equally cool with sneakers or a pair of trendy snake-effect ankle boots. Though super-sweaty leggings aren't ideal for wearing all day, you can easily rock them straight to brunch after a low-impact class.
To give an athleisure look a last hint of polish, Beckham suggests using a structured coat as the finishing touch. Crisp tailoring adds a sleek contrast to comfy sportswear.