This Luxe Lingerie Brand Just Debuted The Chicest Activewear & You'll Want Every Piece
Courtesy of Eres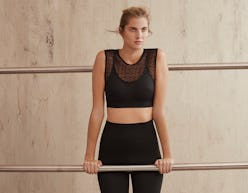 Let's face it, moving your body on a daily basis takes serious motivation. Even the most dedicated gym-goers need a little extra push sometimes, and a pep-talk to yourself in the bathroom mirror doesn't always cut it. Chic new athletic apparel, on the other hand? That'll make any fashion girl want to get fit. And if you've been on the hunt for some high-style new gear, Eres' activewear collection is the way to go — and it's so luxe, you'll want to wear it way beyond the gym.
In fact, the whole idea behind Eres' first ever activewear collection is that it translates well outside the walls of your fave workout studio. The French brand, known for its delicate but daring lingerie, designed each uber-feminine fitness piece with a modern lifestyle in mind, so you can feel more than comfortable sporting your look post spin class. And considering just how luxe the debut line of bra tops, bodysuits, leggings, and athleisure pieces is, it would frankly be fashion crime to reserve them solely for barre classes or yoga sessions.
Eres chose sleek silhouettes and delicate details to add a dose of feminine charm to the workout basics you rely on, like mesh panels on crop tops and leggings. The $420 Prana top, with a built-in bra and mesh underlay, coordinates perfectly with the $340 Guru leggings' mesh hem at the ankle. Post-workout, each piece is equally as cool together or on its own, paired with a tailored boyfriend blazer and street-wear sneakers.
Ballet-inspired pieces also feature prominently, and bring a sense of fluidity and to whatever your favorite workout may be. Swap your basic tanks for the Silence wrap top, $285, which features a cropped silhouette and sweet bow-tied waist. Wear a lace-adorned sports bra beneath, for a subtly sexy (and strong) vibe.
And if you love a good body suit to show off your physique, the Indy leotard, $420 is ideal for sculpting and toning your way through a pilates session. Layer the collection's cashmere separates when you're headed to and from class — the breezy Calm poncho and relaxed Namaste jumpsuit nail a cool but elegant athleisure vibe.
If you're not usually one for purchasing pricier athletic apparel, consider just how often you'll actually wear the pieces — admit it, you've worn workout gear without actually going to the gym more than once (by the way, that's totally ok). And when they're as stylish as these new Eres looks, you're bound to wear them even more, thus really getting your money's worth. Keep scrolling to shop some of the best pieces from Eres' debut activewear line, and head to the brand's site for the full range.