This Diamond Cut Makes An Engagement Ring Look Bigger
Tiffany & Co On Instagram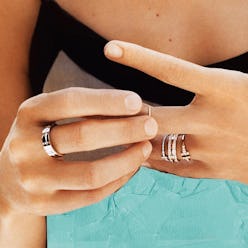 No matter if you're engaged, single, or never planning on tying the knot, you can still probably list off at least a few engagement ring diamond shapes: princess, emerald, cushion. Though over time, popularity has swung between different cuts, it's not often you hear about an entirely new design. But, last year Tiffany & Co. debuted Tiffany True, a new diamond and setting design that's intended to make an engagement ring look especially sparkly.
"Our engineers and diamond experts designed a ring that combines two cuts, emerald and round brilliant which results in an unprecedented amount of brilliance," explains Melvin Kirtley, Tiffany & Co.'s Chief Gemologist. "Combining the two cuts allows a unique depth and texture in their patterns of light and shadow." The result, according to Kirtley is a diamond that looks larger on the face than other fancy shapes.
The modern engagement ring can in many ways be credited back to the Tiffany Setting ring, which was first debuted in 1886. Traditionally, diamonds on rings were set in bezels, meaning that the stone is completely encircled in precious metal. The Tiffany setting style instead has six prongs that lift the diamond above a slim band, allowing the stone to stand out and shine. Though over the past few years, non-traditional settings and stones have gained popularity, the ring still remains a sought-after option for the jeweler today.
Designing and developing a new engagement ring style is something that Kirtley explains can take years, meaning that while trends are important, a new style needs to have longevity. "We wanted to create something new that was both as simple and refined as the Tiffany setting," he says. "We knew we had to create a ring that was both modern and classic and with the ability to become as iconic as the setting we are famous for."
Tiffany & Co. announced the release of this new sparkle-enhanced in late 2018, the first new engagement ring in almost a decade. But, for those more interested in the brand's history or other iconic diamond pieces, Tiffany & Co. is launching an exhibition Sept. 23 through Nov. 10, 2019 in Shanghai, highlighting the new ring along with a number of iconic styles including the 128.54 carat Tiffany Diamond.
"Diamonds are still the most popular choice for engagement and wedding jewelry due to many factors such as the natural beauty and hardness of the stone, its rarity, and the symbolism around diamonds," Kirtley notes. But, he adds that the brand is seeing some change, with shoppers increasingly looking for unique options. "In recent years we have seen a growing interest among couples interested in diamonds with symbolic designs like a heart shape or more modern style like an emerald or cushion cut."
Across the engagement ring industry, for both smaller jewelry designers and iconic houses like Tiffany & Co., the shifting preferences in engagement rings has driven a desire to develop styles that highlight diamonds in new and unique ways. Whether it be a cut that allows for more sparkle (like the Tiffany True), bands with a halo setting that can make a smaller diamond appear more vibrant, or east-west settings or baguette engagement bands with a vintage aesthetic without quite as much flash. But, in many ways cut alone is not enough. ""Clients are looking for quality and rarity but also full transparency and information on the provenance of diamond," Kirtley explains. "Consumers are much more aware and generally more conscious shoppers ... how diamonds are produced, how they are cut and polished." The future of engagement rings comes down to this: shoppers are looking for a story, and for something that fits them — on their finger, sure, but beyond that as well.
Shop more modern rings below.