Suki Waterhouse Just Wore The Coolest Piece From Kate Spade's New Collection
UMV/Star Max/GC Images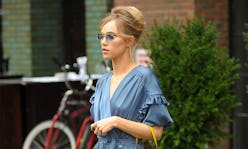 Sitting front row at New York Fashion week requires the perfect outfit (think: something you'd want to be photographed in), so it comes as little surprise that celebrities bring their A-game for each and every show. Case in point: As she made her way to the Kate Spade RTW show in New York City on Friday, Suki Waterhouse wore the coolest yellow bag. And lucky for you, the actor's bag can be a part of your fall wardrobe, too — it's in stock and available to shop now.
Waterhouse was photographed on Friday afternoon wearing a foolproof fall outfit: a long, silky dress complete with draping ruffles and pleats. But the accessories were the real highlight of the actor's look. A pair of square shades were paired with white sling-back mules, and of course, a woven bag in the perfect canary-yellow hue.
While the bucket bag has been recreated ad nauseam in recent years, there's something undeniably fresh about Waterhouse's. In addition to the rich color, the leather looks interlocked — almost like a delicate, woven basket.
There's a reason Waterhouse opted for this bag in particular. It's a part of Kate Spade's new capsule collection — and it even made its runway debut during Friday's show.
Friday's show was an important moment for Kate Spade New York. Not only was it creative director Nicola Glass' runway debut, but it also marked the brand's first show since Kate Spade's tragic death in June.
Glass' show payed a subtle tribute to the late designer with blush-colored cards on each seat that read, "She left a little sparkle everywhere she went" — a play on one of Spade's most beloved quotes, "She leaves a little sparkle wherever she goes."
The sunglasses-clad models walked across a runway that was flecked with glitter. Glass wrote on the show notes, "This collection has been given a lot of care, attention and love."
Although Spade parted ways with her namesake brand in 2007, Glass' collection was speckled with bright colors and retro prints that were undeniably reminiscent of the brand's roots. "I was really inspired by going back to the very beginning and looking at the core DNA of the brand," the creative director told Glamour.
While you'll have to wait for the new collection to drop in 2019, Glass sent twelve new capsule pieces down the runway — all of which are available to shop now. Of the nine handbag styles she debuted during the show included Waterhouse's bucket bag.
The Dorie Bucket Bag features soft pieces of interlocked leather to create a basket-like texture. In addition to yellow, The Dorie is also offered in a rich, hunter-green shade, which is just neutral enough to replace your every day black bag.
If you're looking to cop Waterhouse's look, act fast — Glass' capsule collection is available in limited quantities, and sell-out rates are on the horizon.