This Easy Fall Outfit Formula Will Save You Time Every Morning
Christian Vierig/Getty Images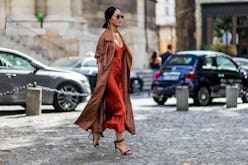 I don't have a chair in my bedroom. Not that there's any room for one anyway, but I like to pretend its absence was a conscious decision to keep my bedroom free of any catch-all surfaces that might accumulate all my outfit rejects. But still, every morning while getting ready for work, I try on at least a dozen outfits that seemed perfectly suitable in theory, but not so much in practice. The lack of "the chair" means I routinely bury my still-sleeping boyfriend under a pile of clothes that rarely migrate from the "not today" pile to the "giveaway" pile. That is, until I realized how to wear a slip dress every single day of my life— which happened exactly three weeks ago, thankyouverymuch.
Suddenly, my bed no longer needed to serve as a sartorial ground zero. I had a light bulb moment while scrolling through my saved folder of outfits on Instagram — the one I stare at before getting in the shower every morning with the hopes that it'll inspire my next outfit — because it was filled with slinky, silk midi dresses in nearly every non-color out there: a couple from Anine Bing in tobacco beige, some tagged photos featuring the same navy Fleur Du Mal number, and at least half a dozen of women wearing Silk Laundry's core slip dress, my personal favorite. (Though the brand's been around for since 2014, Silk Laundry has enjoyed a nice 100 percent year-over-year increase in sales thanks to the revival of the '90s-era staple — the Instagram effect, if you will — the brand's founder tells me via email.)
In true pack-rat form, I'd already had a few similar slip dresses in my closet — some vintage ones from prior decades that didn't fit perfectly, and two contemporary iterations that did. And as temps in NYC wavered between disgustingly hot and downright soupy, I found that the slip dress — as well as its abbreviated counterpart, the silk skirt — is one-half of the outfit formula that gets me out the door in minutes, and that's the kind of fashion math I like.
For the slip dresses that weren't quite the right fit, I employed the world's easiest styling trick: throw on a blazer, t-shirt, or sweater over it until I manage to make it to a tailor. And even for the ones that did fit just right, layering something slightly more oversized — a chunky sweater or a hip-skimming sweatshirt, for example — works great for chillier days, or those spent in my air-conditioned office.
What makes it such a no-brainer is that there's no complicated tucking, and the silhouette looks just as great with sneakers as it does with mules.
I'm all for anything that gets me out the door in ten minutes flat — especially if it means my boyfriend can wake up without having to wade through my rejects before his feet even touch the floor.
Ahead, find every single slip dress and silk skirt I've added to my cart this week, plus a few more on my wish list. Wear yours now with a tee layered underneath, and with a cozy, oversized sweater later — and enjoy the fact that you'll be so comfy, it might just feel like you're wearing pajamas in public.