The Bucket Bag Trend Is Still Going Strong For Fall — And These Bags Prove It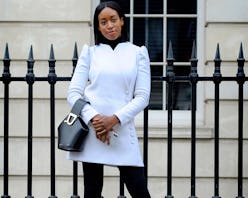 From crossbodies and hobos, to clutches and backpacks, it seems as if there is a type of bag for just about every occasion imaginable. In the same token, certain looks and styles seem to hit a high note at certain points in the year, as well. In the summer, for instance, we have festive straw and knit totes. In the fall, the sturdier, roomier bucket bag trend comes into view. And while we can argue that bucket bags in particular have been year-round favorites for some time now, they shine extra bright in the fall months.
Claudia Mahoney, Head Of Content at The Outnet says the wear-with-everything silhouette is one of her favorites, and with good reason. These efficient totes come in all shapes and sizes, making them easy to work into any look. "Bucket bags are endlessly versatile in the styles they come in," says Mahoney. "You can opt for a laid-back raffia beach bag, go for a more bold fashion statement, or pick a more classic everyday bag. Not only are they versatile to style, they are also endlessly practical and can happily store all your essentials."
As for her first pick for bucket bags, Mahoney reveals the cult-favorite Staud bucket bag tops her list: "You can wear it as a crossbody or detach and use the chic bracelet top handles for a more ladylike vibe. It feels beautifully constructed, with a simple, but pared-back design, and comes in classic muted colors. (It's a) wardrobe classic that I will use for seasons to come."
Versatile, chic, and able to hold all of your life's necessities? It doesn't get better than that. Scroll down to shop some of the hottest bucket bags of the season, and find your own personal dream purse.
Bucket List
This woven bag provides the ultimate pop of color, making it the ideal transition piece your summer to fall wardrobe has been begging for.
Velvet is an absolute must for fall, and this deep, olive-colored bag will be your new favorite neutral.
Who says pastels are only meant for spring and summer? You have full permission to rock this mini, lilac bucket bag all year long.
This classic black bag's python texture makes it the perfect everyday piece for fall.
Staud is one of the most notable bucket bag designers, and this intricate bucket bag doesn't disappoint. We love its rich, earthy tones and layered fabrics.
Not completely on board with the bucket bag fad quite yet? That's totally okay! Experiment with this affordable yet stylish, version from Target.
Replace your beat-up carryall with a new take on a classic tote.
The transparent bag trend is still going strong. Pair this red, accented bucket bag with your favorite weekend loungewear.
What's not to love about this two-toned minimalistic purse? Not into the color combo? Choose from eight different versions on the website.
Suede is a must for fall and winter, especially when it's as bold as this little red number.
If you're looking for a way to spice up your trusty clutch, you've officially found your match. Pair this leopard-print, beaded bucket with distressed denim, a white tee and a boxy blazer for a casual yet polished ensemble.