I Switched To A 15-Minute Makeup Routine & My Skin Has Never Looked Better
Imaxtree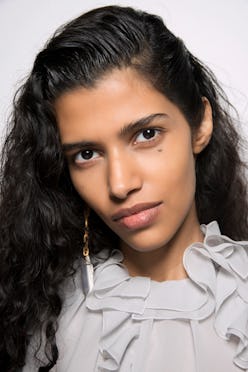 Up until my 30s I struggled with pretty aggressive acne. For a long time, my beauty routine was pretty involved and getting ready took up a considerable amount of time, mainly due to my own insecurities surrounding my blemishes. Unfortunately, it took me some 15 years to adopt a more hydrating skincare routine (as opposed to the abrasive astringents and acne products I used for so long), get a facialist, and finally switch to a more basic, 15-minute, easy makeup routine. While my three-pronged approach was definitely a collective effort, the latter component proved particularly effective in calming and clearing up my skin, while also delivering a glow I never before had (mainly due to the heavy foundation formulas and powders I depended on).
As common as acne is, my insecurity over my skin was at a high for a good part of my life (particularly in my college years) and caused me to become a Picasso with the makeup brush. I painted, layered, and blended my makeup until I felt my acne was sufficiently covered and out of sight. I clung especially tightly to powder-based foundations, blushes, bronzers, highlighters, and setting powders, as I felt the dry bases were the only formulas that offered enough coverage and counteracted my oily skin.
My obsession with a high-maintenance makeup routine was so intense that, even after my skin started to improve in my 30s (thanks to the said changes I made before), I still stuck to my heavy-handed approach. In fact, it was the last thing to change, mainly because my makeup was my security blanket. It was only at the recommendation of several estheticians that I finally decided to try a more simplified, cream-based approach to makeup for my everyday schedule.
My hesitation to switch up was obviously based in fear. I naively expected the cream-based tinted moisturizers, blushes, and highlighter to team up against me and turn my face into a greasy mess, not to mention clog my pores. I just didn't believe I had the skin to work with such an easy, breezy makeup routine. So you can imagine my surprise when some weeks into this back-to-basics regimen my skin actually started to take on a natural, more radiant glow. Furthermore, people were actually complimenting my skin, too.
That's not to say my acne necessarily completely disappeared, but my flare-ups definitely reduced as I was finally allowing my skin to breathe and reset. Also, switching from a heavy foundation and powders to lighter hydrating formulas gave my skin an added boost of moisture that actually worked in my favor, as I wasn't stripping my complexion of oils and causing it to overcompensate.
For the past few years, I've religiously stuck to this lighter, brighter regimen and I've never been happier. In addition to helping me achieve healthier skin, this new leaf also takes all of 15 minutes at the most (I've timed it!) and gets me out the door quickly and easily. I'm no longer spending 30 to 45 minutes dusting powder after powder on my face, concealing and hiding each and every blemish on my face.
So what exactly did this miracle routine look like? Check it out step-by-step below.
Face
My first step in adopting a new routine involved making changes to my face makeup. For more than a decade I topped full-coverage foundation and concealer with powdered blush, bronzer, highlighter, and setting veil. My skin never had a chance to breathe — until I went for my new approach.
I swapped out said heavy formulas for tinted moisturizers or BB creams (over sunscreen of course). I then cover up any blemishes and/or dark circles with concealer. And for the rare special occasions that call for a little more coverage, I'll reach for a lightweight foundation with luminous finish to layer on top. (I use a Beauty Blender to apply all of the above to make sure it's evenly distributed.)
As for blushes and highlighters, I also opted for cream-based formulas which give my skin a lovely natural dewy finish and flush. I'll first blot that apples of my cheeks and blend the color upward using a flat buffer brush. Next comes highlighter, with which I'll spot the tops of my cheekbones, bridge of my nose, and Cupid's bow and buff out with an angular contour brush.
Eyes
After my face is set, I'll move on to my brows, which are an important part of my routine that I never skip out on. It seems the beauty mistakes I made in my 20s also included over-tweezing my brows. I've made considerable effort to grow them out over the years, but there are still patches with little to no hair, so I need a little help filling them in.
I've tried all manner of brow products, and have come to realize that plenty of drugstore brands create worthy options that get the job done. My current favorite dynamic duo includes a brow pencil by Maybelline to fill in sparse areas and Glossier's Boy Brow to fluff, tame, and shape.
I top things off, literally, with a volumizing mascara. Similar to my brows, my lashes often do well with a drugstore brand like Colourpop or NYX Cosmetics.
Lips
Last but not least are the lips. I'm a huge fan of a bright red or pink lip color, but I've found that, for everyday use, a soft pink plumping gloss works with any outfit or occasion. I'll typically prep my lips with a quick scrub since my lips have a tendency to get dry and flaky. I then swipe on a pigmented gloss with some plumping properties to lend a dramatic effect. With that, I'm ready to roll!