10 Genius Tips For A Low-Maintenance Beauty Routine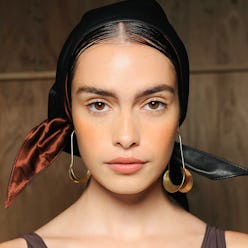 Not everyone is into mastering the cat-eye flick or achieving the perfect beach waves. We're all different, and while 20 different shades of pink lipstick might be important to some, learning ways to get out the door with the least effort required is more appealing to others. We all can probably admit that being makeup free with hair thrown in a bun is one of the best feelings, but there are certain times when looking and feeling put-together is necessary.
Today, we're sharing ten quick beauty tips for those of you who would prefer not to bother much with hair and makeup —or even for those of you who just don't have tons of time to put into getting ready. These tips will have you looking amazing while still getting you out of the house quickly.
1. Curl your lashes.
It may seem like a pointless step, but those seconds curling your lashes will make a huge impact! It will make you look wide awake (even if you're not). We love the Kevyn Aucoin Eyelash Curler and think it's worth every penny.
2. Get beach waves overnight.
Beach waves that require little to no prep in the mornings? This tutorial shows three ways to get wavy hair overnight—no heat required!
3. Throw on a hat.
A hat is every girl's secret weapon. Find a cute one that flatters your face shape and—bonus!—you'll be able to skip washing or styling your hair that day.
4. Get rid of pimples overnight with a single treatment.
These little patches are an Everygirl office favorite. Peel one off and place on the blemish overnight. They eliminate the acne-causing infection and bacteria without drying skin. BONUS: They come in three sizes to cover any size blemish.
5. Air-dry your hair the right way.
Air-drying your hair is easy and great for the health of your hair, but without the right prep work, it may end up looking limp and frizzy. Check out this tutorial to learn a few simple steps you can do to master letting your hair dry on its own.
6. Use a multipurpose base.
Pick a product that has moisturizer, SPF and tinted coverage all in one. A few of our favorites are: Laura Mercier Tinted Moisturizer Broad Spectrum SPF 20, Nars Pure Radiant Tinted Moisturizer, and IT Cosmetics Your Skin But Better CC+ Cream with SPF 50+.
7. Pull your hair into a low pony.
A low pony is always a winning no-fuss hairstyle. It's polished, even when pulled back in a messy "I woke up like this" kind of way. Wrap a strand of your hair from the bottom of the ponytail section around the hair elastic to really finish off the look. We explain how here.
8. Never underestimate the power of a bold lip.
Even with no other makeup, throwing on a little mascara and a bold lip can do wonders in just a minute or two. Looking for the perfect red lipstick for your skin tone? Check out these tips from a makeup artist on finding your best shade.
9. Get a good haircut.
Not all haircuts are created equal, that's for sure! Invest in a good one and your hair will naturally look better on its own without any styling. Specifically, ask your stylist for a cut that will air dry nicely.
10. Take good care of your skin.
If wearing makeup isn't your thing—or if you just don't have the time to put it on every morning, make sure you have a good foundation to work with. Finding a skincare system you love (and one that loves your skin in return!) will keep your skin happy and bright.
More from The Everygirl:
Every Hack We Learned From Rihanna's 10 Minute Makeup Routine
Is Skipping Breakfast Really THAT Unhealthy?