How To Transition Your Home From Summer To Fall, According To The Pros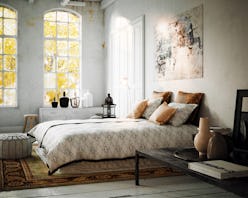 Like with our clothing and accessories, freshening up the décor in our homes is key when transitioning from summer to fall (as far as your wardrobe is concerned, these seven trends are worth jumping on ASAP!). We're hardly switching out every piece of furniture or re-painting all of our walls each season (this isn't extreme home makeover), but simple interior swaps can instantly refresh the look of your home whether it's a few small accessories, a new scent or fresh bedding.
You probably already have a couple sets of sheets, various candles and an extra throw blanket or two in your linen closet, but for a keen understanding of what pieces best set an autumnal tone, we took it to the pros. Specifically, Caroline Grant and Dolores Suarez, founders of Dekar Design, Vicki Fulop, co-founder and CCO of Brooklinen, Melanie Burstin, designer at Homepolish, Katharine Pooley, interior designer and boutique owner, Ryan Turf, president of CB2, Monica Bhargava, EVP of design and product development at Pottery Barn, Ariel Kaye, founder and CEO of Parachute, Danielle Walish, interior and furniture designer for The Inside, and Chrissie Rucker, founder and CEO for The White Company.
Ahead, find out what these décor gurus consider a must when transitioning your home into the new season. Whether you're looking to spruce up a few rooms or simply update a single item or two, they're shelling out advice for every interior interest. Read on for their expertise, then shop their picks for a seasonally stylish abode.
Seasonal Swaps
Caroline Grant and Dolores Suarez, Founders of Dekar Design
"As the weather turns cooler, we like adding layers to the home, as you do your wardrobe. A great way to transition into fall is by adding more plush and cozy throws to sofas and chairs—they add softness and also are a way to add a color accent. We love the mohair throws from Clic. They come in a ton of shades so you can add a pop of color or layer a neutral palette. They are a thick mohair, so you feel like you are wrapped in a sweater which makes the space feel more fall. "
"We love adding sheepskin to chairs (either real fur or faux fur) to prep them for fall. Draping a sheepskin throw can make a simple dining chair feel more luxurious and sophisticated and also adds a nice softness."
"Another great way to transition your home into fall is to switch the pillows on your sofa. Pillows are an easy way to liven up a solid couch and can add color. When going from summer to fall, we suggest adding pillows made of more textured fabrics that add warmth. We love Zak & Fox's pillows and like to mix the patterns for a more eclectic and layered look."
Vicki Fulop, Co-Founder and CCO of Brooklinen
"Fall is the best time to start building a cozy bedroom! Start by switching from a lightweight summer comforter or quilt to something that will hold more heat, like our All-Season Down Comforter."
"You can also switch from cooler summer sheets to something warmer and smoother, like the sateen Luxe sheet."
"Layering blankets at the foot of your bed helps add extra warmth you can easily pile on if the temperature drops overnight. Cashmere, lamb's wool and alpaca are super soft and incredibly warm."
Melanie Burstin, Designer at Homepolish
"An easy way to transition your home from summer to fall is to double down on cozy textures. Swap out your lighter more colorfully patterned throw blankets for more chunky hand-knotted options. If the blankets you're adding can be in more fall-inspired colors that's great—think mustard yellow, charcoal grey and camel colors."
Katharine Pooley, Interior Designer & Boutique Owner
"For fall, I like richer tones and more glamorous finishes such as metallics, especially burnished gold. As interiors transition from a 'beachy' summer vibe to autumnal grown-up glamour, a great way to keep metallic details fresh is to combine them with white and organic textures."
"For fall, I love a masculineTom Ford-inspired black or dark navy accessory—they add depth and understated glamour to a scheme. They're best combined with geometric and faceted shapes and tactile finishes like leather and shagreen."
"I adore the unique sculptural beauty of collectable mineral pieces when combined with bronze and in evocative dark jewel tones like agate, fluorite or malachite. They give the depth and interest necessary to successfully update your table top for fall."
Ryan Turf, President of CB2
"Fall is the perfect time for a bedroom refresh and this season we're introducing a new collection of bedding that's delicate and evokes a spa-like retreat."
"The textile-woven fabrics are made from a family-owned-and-operated factory in Portugal where the quality of materials are the best of the best."
Monica Bhargava, EVP of Design and Product Development at Pottery Barn
"Some of my favorite new products in our offerings are easy ways to update your home and welcome the season. The patina and texture of the Claudine and Talisa printed velvet pillows and the addition of bronze finishes in the clean lines of our Maxwell lanterns transition your home from summer to fall, finished with comfort and style."
These lanterns are cozy indoors or out.
"I am also looking forward to all the fall dinners with our new Mason Dinnerware."
Ariel Kaye, Founder and CEO of Parachute
"Fall is all about textural interest. Layering is the name of the game and our quilts are the ideal transitional weight."
"I like to add one of these blankets to the foot of my bed to use on nights when I get chilly."
Danielle Walish, Interior & Furniture Designer for The Inside
"My primary tip for an easy autumnal transition is to create a cozy atmosphere through texture, color and scent."
"I love a new pillow program, it's like an instant redecoration! For the fall, I'm loving the combination of our throw pillows in Bittersweet, Moss Velvet and our Fawn pattern."
"You may not think of it automatically, but an aromatic update is a must. In the summer, I like this room spray and for fall, I prefer lighting a combination of incense."
Chrissie Rucker, Founder and CEO for The White Company
"Prepare for the fall months and make your bedroom (my favorite room) a place of retreat, rest and relaxation with lots of white, particularly a warm white by layering up beds, chairs or sofas with soft throws and textured cushions. Always make sure to invest in your bed linen. Once you've slept in luxuriously crisp, pure cotton you can't go back to anything else."