These Silk-Lined Beanies Will Save Your Hair This Winter
Edward Berthelot /Getty Images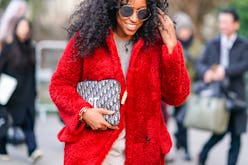 Every fall and winter, people with natural hair often struggle with a few things: for one, cold air tends to be drying, and dryness is the mortal enemy of curly and coily hair. But because the air is drier, that means there's the need to bundle up from head to toe. Most hats are made with fibers that are damaging to hair, as they tend to snag already brittle strands. So clever naturalistas often sew silk and satin caps to the insides of their hats, because those silk-lined beanies for natural hair preserve their styles. Then came satin-lined caps (SLAP caps for short), which eliminated the handiwork... but some weren't wearable, and typically only came in limited silhouettes.
Charis Alexander, founder of Layd, ran into that same exact problem every time winter rolled around. "I couldn't find hats that were well-designed and healthy for my hair and skin," she tells TZR. "We invest so much time and money into our hair, and keeping it healthy should be a part of that investment. Smooth-lined hats are crucial for people with textured hair to retain moisture and reduce breakage, and in talking with friends who have naturally straight hair, I learned that they too were frustrated by hats leaving their hair rough and full of static."
And even when hats have linings, they're often made with "cheap, chemical-filled, synthetic, polyester satins which are not nearly as effective or healthy," she says. "Their linings are permanently affixed to the hats, making them difficult to properly clean." Aside from technicalities, Alexander, a Parsons graduate, couldn't find one chic enough to wear in the streets of New York City. "A slouchy bonnet just will not do!" she jokes.
Thus, Layd was born. Looking at the collection of six hats (in a variety of solids), you'd never guess that the line took months of trial and error. Alexander describes the development process as one that took dozens of prototypes and a lot of wear testing on people with different hair types. "I have a mini archive of all of the design iterations I've made, including the final samples I moved forward with in filing a patent for," she says. Her most important innovation, though, was the removable liner that comes with all of the hats. "Most hats don't come with linings, and those that do affix the lining to the hat permanently," she says. "This means if you need to wash your lining, you must clean the entire hat, which can be very costly and require special tools and skill. If you get any dirt, sweat, or hair products inside of your hat, you can easily remove the silk lining from your hat and wash from the comfort of your home whenever you need to."
Another special feature of these hats is that the linings are 92 percent silk — a rarity, Alexander notes. "A lot of people don't realize that satin doesn't always mean silk," she clarifies. "Satin refers to the weave of a fabric, while silk is a natural fiber in which a fabric can be made of. So for Layd, we always use natural silk satin, while most others will use a harsher polyester satin." And because most hairstylists and trichologists recommend sleeping on silk pillowcases, you can also remove the lining and use it as a bonnet or a cap overnight.
Regarding the six different styles, Alexander says it was important for her to design hats that were stylish enough to fit in with modern trends, yet classic enough to age timelessly. "Each style is minimal in ornamentation and can easily coordinate with anyone's unique sense of style," she notes. And it seems like she chose correctly: Some of the hats are already sold out, and the feedback has been nothing short of positive. "The outpouring of support from people who have experienced the same hair struggles as me has been truly humbling and inspires me to keep going every single day," Alexander says. "I take feedback very seriously, and I'm always looking for ways to improve our products. I've talked to people with hair down to their knees to people who are bald or struggling with hair loss. Everyone agrees that the removable silk linings are a game-changer."
This article was originally published on