The One Thing To Look Out For When Testing Out Dating Apps
Melodie Jeng/Getty Images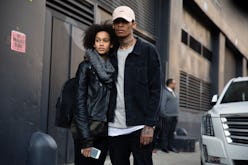 Gone are the days of real-life meet cutes in coffee shops, office break rooms, and rowdy bars or music venues. While meeting a significant other organically is still absolutely possible, in today's digital era it seems it's becoming more and more rare. In fact, instances of couples meeting online are at an all-time high thanks to the dating app and site phenomenon that has rapidly taking over in recent years. Platforms like Tinder, Bumble, Hinge, OKCupid, and Coffee Meets Bagel are now household names, particularly among singles.
Yes, there was an initial stigma around online dating when sites like eharmony, Plenty of Fish, Match.com first stepped out on the scene. For many, the idea of meeting a partner or date online felt taboo or like an act of desperation. However, this negative mentality has definitely lifted as we've been ushered into a more digitally savvy society in which online interactions are not only commonplace but also the norm, especially when it comes to dating. Individuals are finding absolutely everything online — cars, groceries, homes, jobs, clothing — why not add love to the list?
According to a 2017 study by The Knot, 19 percent of the 14,000 brides surveyed reported meeting their spouses online. That's a significant number, especially considering that just two years earlier, the Pew Research Center reported a mere five percent of married couples in the U.S. meeting each other online. It's safe to say this percentage has increased considerably as we enter the year 2019, as online dating is now a $3 billion dollar industry. Oh, how the times have changed.
Although numbers and statistics paint a hopeful and optimistic picture, many are still skeptical of any probability of success that can come from taking their chances on a dating app. With so many options, profiles, and right swipes at your fingertips, is it actually possible to find someone to ride off into the sunset with IRL? Since the answer is an obvious yes, how does one actually navigate this new digital dating frontier so it works out in your favor? Are there certain rules to follow and/or things to avoid?
To get to the bottom of things, ahead you'll find several individuals in long-term, serious relationships who actually found their significant other online. Check out what they had to say about how to hack online dating and make it the meet cute of your life.
Think Before You Swipe
Everyone has their respective end goal and/or intention in regards to online dating (and dating in general), so picking a platform that best suits your needs is key. For Stephanie Carstensen, that platform was Coffee Meets Bagel, which, unlike most online dating platforms out there, limits you to one match per day. According to Carstensen, this helped her slow down and thoughtfully consider the person she was choosing as a potential date.
"I've known many others for whom swiping right and left becomes kind of a lifestyle, a mindless activity to turn to in boredom, distraction, or avoidance," she explains. "When you're in that headspace, it's tough to consider the humanity of the people you're encountering. If you notice your brain getting tired of choosing, or even if you're in a tired/hungry/anxious moment, put down the device and go do something that fills you up. You're much more likely to make thoughtful, wise decisions when you yourself are rested and nourished (physically, emotionally, relationally)."
This strategy proved successful for the therapist, who met her husband Sam Carstensen on the app in 2014. According to Sam, the two were both looking for the same thing — a serious long-term relationship — which allowed them to get off on the right foot and avoid any awkward or uncomfortable conversations off the bat. "I had downloaded and tried other apps before and met a few other people in person, but this experience was very different because I finally found someone who was on the same page, emotionally and spiritually," says Sam. "Besides the first date (during which she nervously watched a Giants game over my shoulder), we quickly felt a connection when we were in each other's presence."
If you are in the market for something more concrete and long-term, make sure your selections mirror that. The same is true for those on the more casual end of the dating spectrum. Things can get sticky quickly if you match and connect with someone on a different wavelength as you, particularly once romantic feelings are involved, so save yourself some grief and do your due diligence. Give profiles a solid scan and look for clues that the other individual is on the same page as you in terms of expectations.
Go A Bit Deeper With Your Profile
Piggybacking off of the above, it's important to make sure your profile accurately represents what you inevitably are about and what you're searching for romantically. "Don't just say in your profile that you like long walks on the beach; be a little vulnerable and talk about what drives you," says Sam. "It seems that most people spend more time on their profile photos than the description of who they are and what they are looking for. If a person hasn't bothered to show any depth in their profile, they'll likely be just as superficial when you meet."
This type of openness was something Sam had to learn first-hand, as he says his initial attempts at online dating (before meeting Stephanie) were trepidatious at best. "I think I held back from showing any openness or vulnerability," he says. It was when he let his guard down and was honest about what he wanted and was looking for that it actually came in the form of his now wife. "I had my eye out for someone who seemed self-aware and like he had taken the time and done the work to get to know himself well," recalls Stephanie. "Sam put his Myers-Briggs type in his profile, and I am a sucker for talking about personality inventories, so I figured it was worth a shot." Voila!
Have Fun
It's easy to get sucked into the pressures of online dating and holding someone's interest long enough to get a first date. That's why it's important to remember to have a good time and not take yourself too seriously. Connections should happen somewhat naturally and smoothly. If you have to force it, it's probably not for you. Such was the case for Courtney Higgs, editorial coordinator for InStyle, who met her boyfriend of six years on Match.com "right before the app wave."
Unlike the Carstensens, Higgs wasn't exactly looking for "the one" when she hopped online. In fact, being a college student and newcomer to Los Angeles at the time, she was just looking for new friends and people to pass the time with. "I just wanted to connect with people and was having a hard time doing it," says Higgs. "I saw my roommate going on all these dates and she admitted she was meeting guys online." Intrigued, the young student decided to give it a whirl even though she, "didn't really know what I wanted."
Some two months later, Higgs came across her boyfriend, who, like her, wasn't taking himself or the online dating scene too seriously. "He was really funny," she says. "His first message to me was hilarious. It was something like, 'Hey, you seem awesome and I'm awesome, too.' It made me laugh." The easy connections carried along into the first and second dates, and the rest is internet history.
Research The Person, If You Can
One of the biggest taboos and pain points of online dating is the risk involved, right? At the end of the day you don't really know the person you're talking to until you meet them in person — and even then, who knows the version you're getting. Luckily some apps (like Hinge) include in their algorithm mutual social media connections you might have as well as options to post your Instagram feed. You can also exchange social handles in the initial convos to get a better sense of who you are speaking with. Because, after all, online profiles can only tell you so much.
For LA-based advertising manager Bridget Berman it was through just such "research" that she first became enamored with her now girlfriend of two years, whom she met on Bumble. "She had her Instagram as public, and you can get a pretty good grasp of a person through their Insta game," she explains. "She had hysterical captions, seemed normal, and did a lot of activities and things with friends. And, she was super hot."
Her social media scan also allowed Berman to discover that her and her match had some mutual friends in common. This allowed her to not only confirm her girlfriend's existence but also get a feel for her personality from third parties. "You have to background check a bit when you really don't know who they are," says Berman. "People can really fake their online presence."
Take It Offline Quickly
Once you do hit it off with someone (and confirmed to some extent that they are who they say they are), it's important to ensure you connect in-person as well as you do online. Lingering in the text or instant message chain won't let you do this, so take it offline as soon as you can. After all, you're trying to actually date, right?
"Our first date happened pretty quickly," says Higgs. "Within the first week or so of talking [...] I realized that my boyfriend was special and there was no need to block him."
The Carstensens waited just days before taking their romance public. "We messaged each other using Coffee Meets Bagel's private text line for about five days before our first date," says Sam. "We matched on a Wednesday, I asked her out on Sunday, and we had dinner together on Monday."
Be Open-Minded
If you have a specific, cookie-cutter vision of what you want your partner to look and be like, be prepared to be disappointed by online — and all — dating. "If you've been single for a long time, it's possible to build up in your mind the perfect person for you, who probably doesn't even exist," says Higgs. "But, of course, don't slack on your standards!"
By focusing too hard on the little minute details you so badly want in a person you might overlook the ones you actually need. Don't be afraid to date or match with someone who maybe doesn't line up to what you typically go for physically, professionally, or otherwise. It's good to have your non-negotiables, but color outside the lines a bit.
"Have the mindset that you're just trying to have fun, and you will generally find someone you connect," says Berman. "Be funny, be confident, and have fun."