Alicia Vikander's Louis Vuitton Spring/Summer 2020 Look Included This Controversial Pants Trend
Pascal Le Segretain/Getty Images Entertainment/Getty Images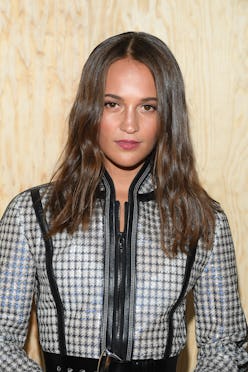 The four-week long sartorial parade that is fashion month has officially — yes, officially — come to a close. And, as per usual, it ended with one final bang that was heard 'round the world. The Louis Vuitton Spring/Summer 2020 show took over Paris' iconic Louvre Museum on Mon. evening, with designer Nicolas Ghesquière putting on quite a memorable spectacle. But, aside from the delivering a collection of '60s and '70s pieces that were bright, bold, and unapologetic, there's another important facet of the Oct. 1 gathering that must be mentioned, too. Enter, the Louis Vuitton Spring/Summer 2020 celeb street-style outfits, which were just as remarkable as the looks that made their way down the catwalk.
The Louis Vuitton show is always one to watch. It never fails to be quite the performance — which is perhaps most evident in this year's presentation, which included a large LED backdrop that projected singer Sophie's "It's Okay To Cry" music video — and regularly boasts an impressive, star-packed guest list that majorly turns up their sartorial charm for one final fashion month shebang. If you thought the runway looks were good, wait until you see the ensembles that flooded the front-row of the Louis Vuitton presentation.
Jessica Biel and Justin Timberlake officially won the award for best-dressed couple of the night; Laura Harrier, who subtly coordinated with Biel, though likely unintentionally, sported one of fall 2019's most popular outfit combos; and Chloë Grace Moretz served up a bold look that featured an extra-extravagant eye.
Ahead, all the best celeb style moments from the Louis Vuitton Spring/Summer 2020 show to inspire you this fall and beyond.