Louis Vuitton Wants You To Start 2020 As A Staunch Anti-Minimalist
YOAN VALAT/EPA-EFE/Shutterstock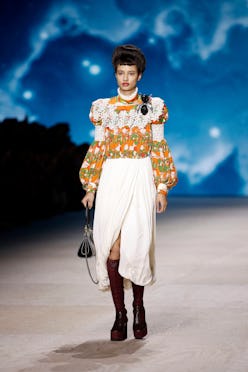 You expect drama from a Louis Vuitton runway. It's the final show of Paris Fashion Week, and really the entire month-long fashion circuit. It's also housed in a courtyard in the central courtyard of the Louvre. This season, guests walked into a stadium of unfinished plywood, a modern space that stood out for its distinct simplicity. But, once Louis Vuitton's Spring/Summer 2020 runway collection appeared, it was clear that show-goers were to be instantly transported beyond our seats.
Before the first look appeared, the white LED wall at the back of the room was lit up with a single face — that of Scottish singer Sophie. As a door opened and models began to march from the darkness through the projection of Sophie's "It's Okay To Cry" music video, attendees (including celebs like Justin Timberlake and Chloe Grace Moretz) were presented with a collection that was bright, bold, and unapologetic. Louis Vuitton has long been a brand lauded for its accessories, but creative director Nicolas Ghesquière has a knack for honing in on ready-to-wear pieces that push further creatively than other luxury houses might fiend to. While many other major houses opted for sleek, minimalist collections, Vuitton was an explosion of texture and print, drawing on both the 1970s and the Victorian era as sources of inspiration.
In fact, opulence reigned supreme throughout the spring collection. Psychedelic swirls, painterly orchids, and sequined chevron were styled alongside one another. So too would a teal look, highlighter yellow ensemble, and pops of bold green appear one after another, almost tempting the viewer to ask, "Is this too much?" only to resoundingly come back with an instantaneous "no."
Continually, Louis Vuitton excels at accessories, driving shoppers with the appearance of a new It-bag or pair of shoes. (One needs only to Google "LV desert boots" for a reminder of the brand's sway.) For this season, there were the classics, but also a number of cheekier designs, like a videotape bag and classic totes with a stack of VHS tapes emblazoned across the side. For footwear, models sported a number of platform boots with sock-like leather uppers, along with a range of heeled and platform loafers.
And whether your personal preference is to love or hate it, there's no denying the fact that high volume — bubble hems included — is indeed back as a new decade dawns. For Ghesquière, it feels that the design choice is indeed part of a larger conversation around clothes: that one can be as loud, and bold, and as unexpected as they want to be. His purposeful yet slightly off-kilter layering; his unabashed daring to pick and pull pieces together that could feel cluttered, but at his hands feel inventive. Though the modern woman is looking to the past, it's clear that as 2020 approaches, there's an optimism for what clothing can offer. If you want to wear it, whatever it may be, it can be done.