Looking To Up Your Wellness Game In 2020? Try This Unexpected Trend
Microgen/Shutterstock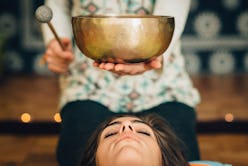 This year it was all about elderberries, buzzy non-alcoholic wellness drinks, and adaptogens for those tuned into what's new in the wellness world. And because the interest in such things doesn't seem to be slowing down anytime soon, it's exciting to think about what the future might hold. Well, according to a new study, you won't have to wait to find out what health nuts will likely be trying in the year to come. And if the predictions are correct, there are four major 2020 wellness trends that you should look into if you're in the market to de-stress and detox — from the inside out.
The MINDBODY app — you know, the one people use to book their favorite fitness classes — recently conducted a 2020 wellness index study, and the results were interesting. While some of the info found by the study reflects things that are probably already a part of your repertoire (meditating, taking naps, turning to acupressure for a quick tension release), the biggest takeaway from the research was that next year it will be less about the stuff you get to up your wellness routine, and more about what you're doing. For example, heading out on a holistic excursion as opposed to purchasing a certain piece of workout equipment, or ditching the food fads and tuning into your intuition about eating instead.
Sound like something you're up for in the new year? Read ahead to learn more specifically what the wellness hub's predictions are for all the things you just might want to add into your lifestyle in 2020 for a healthier and happier you.
Wellness Experiences
Experiences and adventures are 2019's biggest trends for the travel world, and according to this study, the same goes for wellness. Forty-two percent of those polled valued experiences over material possession, which means you may be hearing a lot more about yoga retreats, fitness pop-ups, and wellness-focused vacations.
Prioritizing Sleep
MINDBODY's research showed that 57 percent of people consider sleep to be a luxury, with 28 percent using sleep apps. Other ways you can try to prioritize your sleep in 2020 include natural supplements, non-toxic mattresses and bedding, and even nap pods/bars such as Dreamery by Casper or RēCOVER.
Emotional Wellness
Of those polled, 54 percent claimed they were as committed to their emotional wellness as their physical wellness — and the research also shows the former will surpass the latter in the new year. Some ways this might show up include getting out of vicious diet cycles and focusing on sustainable and realistic eating habits as well as making more time for your mental health — whether it be with therapy, mediation and breath work, or workshops on relationships and intimacy that go beyond the physical body.
Complimentary & Alternative Medicine
A whopping 68 percent of those studied consider complimentary and alternative medicine (CAM) as a beneficial counterpart to modern medicine. In addition to the most popular forms of this, like meditation, guided visualization, and breath work, getting acugraphs, acupuncture, acupressure, and even ear seeding are a few rising practices that will become a lot more accessible in the next year.