Outdoor Voices Partnered With The Wing To Create A Capsule That Supports A Very Important Cause
Courtesy of Outdoor Voices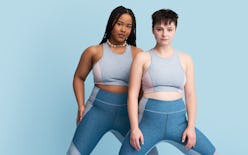 Women supporting women — it's what 2019 (and every year that follows) is all about. It's also what The Wing is all about. The network of community work spaces for women is all about female empowerment, which is why its latest collab makes so much sense. The Wing has teamed up with female-founded (and fashion-girl favorite) workout brand Outdoor Voices to create an exclusive Outdoor Voices x The Wing workout set. And you'll absolutely want to score the chic pieces, because a portion of the proceeds supports a very important cause for women.
On May 24, The Wing launched a limited-edition capsule on its online store, as part of an ongoing partnership with HBO and in celebration of the coming season of Big Little Lies (you've been counting down too, right?). To honor the unbreakable female bonds depicted in Big Little Lies, and those IRL, the collection includes a curation of custom products from women-founded brands, including an exclusive two-piece kit from cult-favorite recreational apparel line Outdoor Voices. With every purchase, part of the profits go to National Network to End Domestic Violence — so it's a purchase you can totally feel good about.
Outdoor Voices — which has been on a major roll with the collabs of late — created a custom-colored kit that includes its popular 3/4 Two-Tone Leggings and comfort-compression Tri-Tone Athena Crop Top. The two can be purchased together as a kit for $95, or on their own at $85 for the leggings and $45 for the crop top. And remember, a chunk of your change will support woman and families fighting to break the cycle of domestic violence.
The exclusive workout pieces, crafted from Outdoor Voices signature sculpting fabric, are inspired by the dreamy oceanside backdrop of Big Little Lies, and the "circle of trust" that the leading female cast forms with one another. Deep teal, soft sky blue, and whisper pink mingle across the paneled activewear, a color palette that will certainly make putting on gym clothes much more appealing.
Wear the set to your next pilates workshop, or head out on a hike with your best gals (a luxurious BFF brunch afterwards is a no-brainer, you deserve it). And don't forget a cute pair of sneakers that'll support you as well as your friends do — Outdoor Voices has got those covered too.
Feeling inspired by all the female-to-female love? Get in on it by grabbing your own Outdoor Voices workout kit, below.