Madewell Partnered With Your Favorite Activewear Brand For A Must-Have Collab & It's Going To Sell Out Fast
Courtesy of Madewell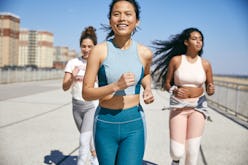 Get ready to start #DoingThings this summer. Following Outdoor Voices' recent Teva collab and H2OV swimwear release, the brand revealed it has yet another card up its sleeve on May 14: Outdoor Voices' Madewell collection. Yes, two of fashion's favorite elevated essentials brands have teamed up to create one limited-edition collection — and it's definitely going to sell out quick.
It probably makes sense to you that a perennially adored brand like Madewell would team up with Outdoor Voices, an up-and-coming athleisure brand that's constantly growing in popularity. And it made sense to them, too. "We share the same approach towards bringing our customers unique, high-quality products that they will want to wear everyday — us with denim and OV with activewear. Because of that our collaboration was a natural fit for us," Joyce Lee, Madewell's Head of Design, tells The Zoe Report via email.
The collection starts at $9.50 (for a Madewell x Outdoor Voices Scrunchie) and caps at $79.50, the price of the Madewell x Outdoor Voices Crop Sweatshirt. That sweatshirt, the collection's cropped T-shirt, and the canvas tote bag all sport exclusive wave designs dreamt up by Austin-based artist Emily Eisenhart — and they perfectly complement the dreamy teal and blush colorways chosen for the capsule.
Besides the exclusive pieces, the collection also ushers in a new era for both brands: Outdoor Voices clothing is available at Madewell for as long as the collection stays in-stock, both online and in select brick-and-mortar stores. You can also shop the $45 Two-Tone Athena Crop Top or the $85 3/4 Two-Tone Leggings in the exclusive Madewell colorway — known as "Slate/Emerald" — on either brands' websites.
"When developing the color combos for the limited-edition Kits, we drew inspiration from our Summer collection, pulling a cool pastel palette to create quality activewear products that complement our current aesthetic," Lee explains.
However, no matter which colorway you pick, adding the crop top and leggings to your Madewell cart instantly brings down the price to $95; the same price Outdoor Voices' Rec Kit is on its website.
Ready to get moving? Shop the Madewell x Outdoor Voices collection on either brands' sites, or by browsing a few of the pieces below.