Victoria Beckham Beauty's New Lip Liner Comes In 6 Versatile Nude Shades
Courtesy Khalea Underwood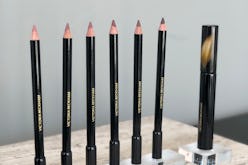 Victoria Beckham has been on a mission — well before her eponymous makeup line, Victoria Beckham Beauty, launched earlier this year — to nail the perfect nude lip. It's a valiant pursuit indeed, considering the power of a well-executed nude pout to pull just about any look together for a polished, sleek, and timelessly modern effect. Thankfully, the latest Victoria Beckham Beauty launch is here to make a naturally enhanced lip incredibly effortless once and for all, no matter your ideal nude shade. You'll soon be thanking Beckham for her tireless dedication.
When word first got out at the start of 2019 that Victoria Beckham would be expanding upon her very fashionable empire with a beauty line, the exact products that she planned to put out were completely up to conjecture. That is, until the brand extension officially kicked off with the launch of its smoky eye collection in September, with four Smoky Eye Brick compacts, slick Satin Kajal Liner, and shimmery Lid Lustre shadows.
Now, Beckham and her beauty team are pushing out the next launch and naturally, it's just as signature to the pop star-turned-designer as her smoldering eyes. The nude lip of her dreams (and now, yours too) has arrived.
On Oct. 15, Victoria Beckham Beauty finally unveiled the inaugural products under its Lips category, which was previously present but noticeably blank on the brand's website. And just as September's eye launch sought to give shoppers a luxe way to get Beckham's iconic smoky eye, the lip drop serves up the essential products necessary to achieve her perfect nude pout.
The launch includes six Lip Definers, $24, each in a varied shade of nude with a promise to be versatile enough to satisfy several skin tones. All you need to do is find the one that most closely matches your natural lip color — Beckham uses No. 02 for her perfect match. It's a waterproof formula formed into an ultra sharp point, with peptides and vitamin E that give it an effortless glide and uniform pigment distribution.
"I like a sharp point and I like a formula that means I can get a really precise line as well, but one of the main things, really, was that we could have a perfect nude for every skin tone," Beckham said at the lip collection's official release. "We have really focused on each one of these six, to make sure that everybody can get the perfect 'Posh' pout."
To complete the your-lips-but-better look, Beckham developed the Bitten Lip Tint, $34, a universal soft matte lip stain that naturally enhances any pout with a subtle kiss of color. It's formulated to plump lips with hyaluronic acid (not a stinging agent that tingles on application), for a fuller, smoother appearance and the hydrating, comfortable tint was also created to be blended with your ideal Lip Definer hue.
Want the official Beckham way to apply the products? She actually uses her lip collection in a way that may seem counterintuitive to you at first. "I usually put the stain on first and then I take the lipliner. I normally use either shade two or shade three — one is a little bit more pink — and I line around the outside of my lips a bit," Beckham said. "And I try to blend better than I used to when I was in the Spice Girls."
Iconic pop group jokes aside, Beckham reinforces that the method helps her pout appear fuller naturally, with well-blended contour that creates a more voluminous look. The point, Beckham believes, is not to completely change your appearance but to work with what you have so you feel your most confident. And that's the beauty of a nude lip.
Shop all six shades of nude liner and the universal lip stain from Victoria Beckham Beauty below to recreate her iconic look.