Victoria Beckham's Beauty Line Is Here & It's Now Easier Than Ever To Recreate Her Signature Smoky Eye
Victoria Beckham Beauty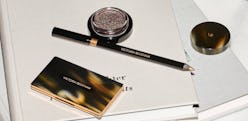 There seems to be little that Victoria Beckham can't do. And as of Sept. 14, you can officially add "beauty mogul" to the singer, fashion designer, and entrepreneur's illustrious resume. Victoria Beckham Beauty — Beckham's eponymous new makeup brand — has arrived online, and it's every bit as posh as fans expected.
The first order of business: Beckham's famous smoky-eye look. Although Victoria Beckham Beauty's website does have a page for "Lips" and "Skin", this inaugural drop includes a multitude of eye makeup. Shoppers get to choose from the $26 Satin Kajal Liner, $36 Lid Lustre eyeshadow, and $54 Smoky Eye Brick, the brand's inventive take on the classic quad palette.
Stripped away are the pans and dividers you've come to expect from palettes; each of the Smoky Eye Brick's shades are nestled into one cohesive compact, with a generously sized mirror reflected onto the other side. You get to pick from four palette colorways, as well — the classic "Signature", cool-toned "Tuxedo", crisp blue "Royal", and red-hued "Tweed." It doesn't matter which shades you use to blend together your perfect smoky eye; each one is formulated to have a matte finish. Additionally, shoppers can amplify the shades' color payoff — or create precise lines — by wetting their eyeshadow brushes beforehand.
While the cleverly packaged palette may garner the most buzz, the other two products are equally as eye catching (and on brand for Beckham). Not so into traditional eyeshadow? The creamy Satin Kajal Liner pencil is made to be smudged, and comes in three colorful shades: traditional black, glitzy "Bronze", and dramatic "Bordeaux."
Likewise, the Lid Lustre eyeshadows give fans even more options — you can use the crystal-infused shimmer shades as sheer shadows, top off the matte Smoky Eye Brick colors, or to accompany any look you create using the eyeliner. There are four shades currently, including the dark "Onyx", pale yellow "Blonde", brown "Mink", and deep blue "Midnight."
Naturally, the timing of the beauty brand's arrival could not have been better; it came just a day before Victoria Beckham's Spring/Summer 2020 show Sept. 15 at London Fashion Week. And of course, the new beauty collection found its way onto the catwalk, via graphic liner looks that accented this year's breezier pieces.
Unsurprisingly, select shades have already sold out, although the brand's website has noted a restock is arriving Sept. 23. There's still plenty left in stock to shop until then, though — including the five Victoria Beckham Beauty products listed below to add to your cart first.