Everything You Need To Know About The Victoria Beckham Beauty Debut
Matt Winkelmeyer/Getty Images Entertainment/Getty Images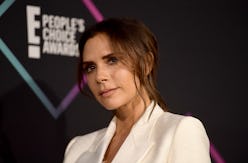 One of England's poshest individuals is about to make your beauty routine even more chic. Yes, Victoria Beckham is officially expanding her empire into the beauty space, with the creation of the Victoria Beckham Beauty line. And if the sartorially savvy designer's own glam beauty style is any indication, her brand's forthcoming launch won't be anything short of fabulous.
Victoria Beckham's eponymous brand announced on Feb. 13 the creation of Victoria Beckham Beauty, a namesake line of cosmetics, skincare, fragrance, and more, that will officially launch in Autumn/Winter 2019. The new extension of her brand is set to reinforce Beckham's mission to empower women to feel fearless, confident, and powerful no matter what life throws at them.
"I want to take care of women inside and out, providing them with the must-have items in makeup, skincare, fragrance and wellness that I feel I need in my own life," Beckham says in a press release announcing the soon-to-launch beauty line.
This isn't the first time Beckham has dipped into the beauty industry — in 2016, she collaborated with Estée Lauder on a capsule collection of thoughtful (and obviously glamorous) makeup essentials that she felt would complete any woman's makeup collection. Things are coming full circle now, as Sarah Creal, who worked with Beckham to develop the Victoria Beckham x Estée Lauder capsule, comes aboard as co-founder and CEO of Victoria Beckham Beauty.
"Victoria has an innate love of beauty that started when she was very young, and has continued unabated," Creal says in the same press release. "This authenticity is going to infuse the entire business strategy, and because everything will be directly overseen by Victoria, the line will be elevated and impeccably curated."
Upon its debut this coming fall, shoppers will be able to snag Victoria Beckham Beauty products online via the brand's website, VictoriaBeckham.com. And until then, Beckham will be continuously engaging with her fanbase, via her socials and YouTube channel (which she launched late in 2018), to determine the ideal products they'd love to see the line create.
"Just like I spend so much time in the fitting room getting to know what my customers want to wear, I'm going to be asking women to tell me which products they want me to develop for them in the beauty and wellness arenas," Beckham says. "It's important for me to know what they want."
For the time being, beauty buffs will have to wait to see exactly what Beckham's inaugural beauty launch will include — although it wouldn't be a stretch to wonder if she'll slyly use a product or two at her upcoming Fall/Winter 2019 show in London. If you're lucky, maybe she'll even create something you specifically asked for.