The Controversial Brow Trend You Thought Would Never Resurface Is Coming Back
Imaxtree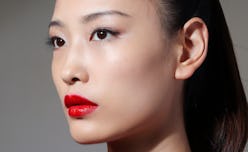 Brows continue to veer bigger, thicker, and more natural over the years. Products catering to a voluminous pair are in abundance and staples in virtually everyone's arsenal (hello, growth serums). However, a top brow expert just delivered a blow that could turn the brow train right around. The thin brow trend will be back with a vengeance — and sooner than you think.
Tonya Crooks, brow pro to the stars (her clientele includes Fergie, Megan Fox, and the Julia Roberts) and founder of The BrowGal predicts the slim, ultra-trim arches that were all the rage in the '90s will be making their way to faces near you as soon as 2020. "I think we're gonna start to see the beginnings of a big eyebrow shift," the expert tells The Zoe Report. "We can't go any bigger than they are right now. Everything is kind of cyclical, and it's almost inevitable that the trend is going to change. We're going to see those at the forefront of fashion experimenting more."
Read more: 12 Products For Microbladed Brows That Keep Them Looking Natural
From her mouth to Rihanna's ears. Just last year, the Fenty founder herself debuted a pair of razor-thin arches — reminiscent of starlets from the 1920s — on the September 2018 cover of British Vogue. And seeing that the singer-turned-designer is always at the very cutting edge of style and trends, it's very likely a slew of other It-girls will be following suit very soon. (And it must be noted: supermodel Kate Moss, who's embraced thinner brows since the early '90s, is still donning trimmer, slimmer arches to this day.)
That said, the direction and intensity in which this trend will be going is somewhat up in the air (as these things tend to catch fire quickly). Will you be seeing parenthesis-like structures á la Drew Barrymore, Naomi Campbell, and Gwen Stefani circa 1996? Or will thin brows manifest in slightly sleeker, closely trimmed arches? According to Crooks and her crystal beauty ball, the latter is most likely in your future. "I think it'll go from a bushy, feathery brow to a more sculpted version of that," she says. "I don't think they'll ever go as thin as they were in the '20s, but they will definitely go thinner than they are now — and more shapely."
So does this mean you need to fire up your trusty tweezers and brow trimmers? Not necessarily. Crooks explains that even the most carefully tweezed brows need to adhere to your natural shape — otherwise, things can go south quickly. "It almost doesn't matter what the trend is," she explains. "As long as the shape is right, balance is right, and the length is right, no mater how thick or thin it is, it's going to accentuate and make the face look better. So, first and foremost, I say focus on architecture and then the trend."
Crooks goes on to note that the issue of shape seems to be the biggest struggle among clients. "When someone is in my chair, I like to lift above the area where arch might be and see what kind of shape is reflected back to me." According to the brow guru, there are three main categories arches can fall under: "There's an arch, which is like a hill when you lift it, and arc, which is a bit more rounded, and a straight brow, which is exactly that." (A few celebs model said categories perfectly, in case you need a visual reference: Megan Fox has an arch, Julia Roberts has an arc, and Natalie Portman has a straight brow, notes Crooks.)
If you want to truly decipher your shape and length at home on your own, the brow specialist offers a handy trick to help you out. "I take a pencil and I align it where the nostril rests against the side of the nose, straight up at 90 degrees," she explains. "I'll put a point at the bottom of the brow. Then I do the same thing for the length: [I line up] the outer corner of the nose and the outer corner of the eye for the end of the brow and I make a point to create a baseline of the lower brow." For the arch, just pivot the pencil to the middle of your eye (still keeping it rested in that divot of the nostril) and mark the top of the brow. That's where your brow is naturally at its highest.
As brow trends come and go, understanding the natural curves and shapes of your face will always serve you best, says Crooks. "You want to really understand what the face is meant to have," she says. "If you try to make your brows into something they're not, all you're going to have is struggle. People get really hung up on seeing something that they want on someone else."
To help you get the best brows ever — through thick and thin — ahead are some key products to help you out on the journey.